Description
Hot Chip Strips Limed Habaneros
Do you enjoy the taste of spice but maybe not the heat so much? Try these new mildy spicy chips flavored with lime and habanero pepper. With an intensity of around 40.000 SHU on the Scoville scale, you're a far cry from the 2 millions of the Hot Chip Challenge version! You'll still feel the tingle of spice for an intense experience, but contrarily to the Hot Chip Challenge, you should be able to walk away unscathed and tear free. ??
Heat level
Medium to high, 40,000 SHU
Quality Ingredients
Unlike traditional crisps these ones are made from pulses which brings several advantages. They're high in protein, gluten-free and ingredients are fully vegan. Are you looking for preservatives or dyes in the list of ingredients? Give it up. There are none.
When to enjoy them
Thanks to perfect ingredients, you don't have to beat yourself up if you open one packet while watching TV. The balanced, high-quality ingredients make this a healthy snack you can pack with you on your trip or eat them after your workout. Ideally sized to fit in your backpack and bag.
Not into sports? It doesn't matter! You can eat them on the sofa with beer or wine.
When premium ingredients meet unique taste
Why should you choose Chilli and Lime Strips? The answer is simple. Strips Chilli and Lime combine medium heat level of Habanero pepper with fresh, juicy lime. In addition to this, they are also a unique source of fibre, protein and omega 3 and 6 fatty acids.
Ingredients
pea flour 81%, rapeseed oil, chia seeds, sea salt, chilli smoked jalapeño 1.3%, chilli habaneros 1.3%, sugar, carrot, garlic, onion, parsnip, parsley, spice blend, yeast extract.
Weight
80 g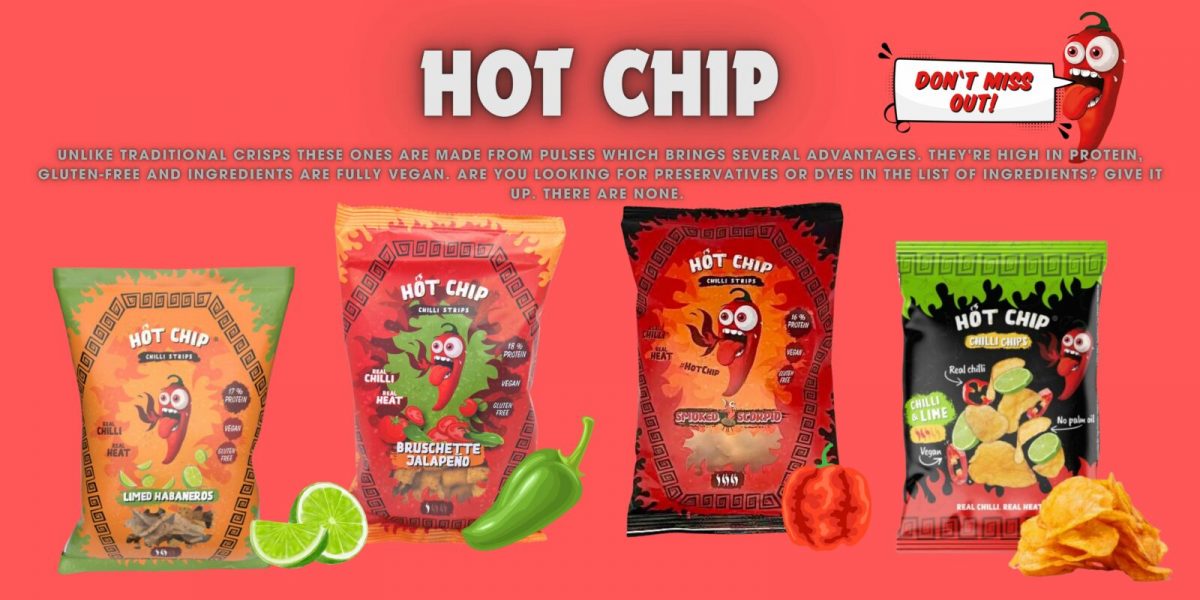 What's included
1 x Hot Chip Strips Limed Habaneros 80G