Description
Aspire Cyber X Pod Kit
The Cyber X vape kit features single button and inhale activation. Just puff on the mouthpiece or vape at the click of a button. Additionally, the button on the Cyber X vape kit can be used to switch between these 3 firing modes, giving you more control over how much vapour the kit produces. You can combine the kit's adjustable power mode with its dual airflow system to toggle between MTL and RDTL vaping by simply rotating the pod.
There are two Aspire TSX pods included with this kit, one with an 0.8 Ohm coil and the other with a 1.0 Ohm option. The built-in coils inside these pods have a mesh design, heating up your e-liquid quickly to improve flavour and vapour production. Refilling these pods is easy, just remove the rubber stopper on the side to reveal the filling port. They also feature an adjustable airflow, so you can switch seamlessly between a tighter or looser draw to tailor the feel of your inhale. We recommend pairing these pods with e-liquids blended with 50% VG or more for the best results.
Specifications:
Beginner-Friendly Pod Kit
1000mAh Built-in Battery
Adjustable Airflow
Single Button / Inhale Activation
MTL & RDTL Vaping
2ml Refillable Pods
3 Power Settings
Mesh Coils
What's included :
Aspire Cyber X Device
0.8 Ohm Aspire TSX Pod
1.0 Ohm Aspire TSX Pod
USB-C Charging Cable
User Manual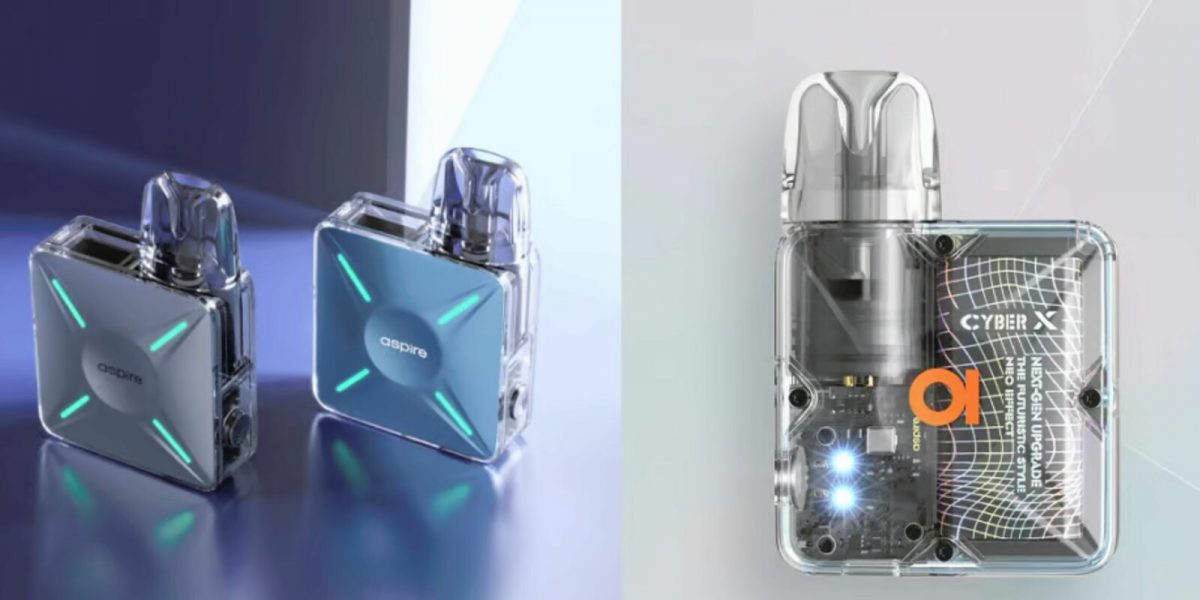 Type-C, 2A High-Speed Charging
Aspire Type-C, 2A quick charging makes power drain a thing of the past. It just take your a coffee break moment to refuel the battery up to 100%.
Bigger Battery Capacity, Better Vaping Experience
Looking for a durable vape that's as stylish as you? The Cyber X is the right vape that built-in long-lasting 1000 mAh battery to maximize your vaping fun with enough stamina for 2 days.
Easy Filling, Leakage Free
Easy Side Filling
(Standard/TPD Clear Pod Version)
Easy Top Filling
(TPD/CRC Black Pod Version)
Your Color,
Your Taste
Pearl Silver, Coral Orange, Frost Blue , Sage green, Gunmetal, Flax Yellow
Unleash Your Joy of Flavors
The 1.0Ω & 0.8Ω TSX Pods are specially designed for the Cyber S and Cyber X device , as well made for different concentrations of nic salt.
TSX Pod
(0.8Ω Mesh coil )
TSX Pod
(1.0Ω Mesh coil )
Unique Indicators for Unique You
The iconic LED indicators on the front not only make your vaping life more stylish but also show you the current working condition intelligently for maximum convenience.
Ergonomic
Duck-Billed Mouthpiece
An ergonomically designed duck-billed drip tip crafted to perfectly correspond to the shape of the human lips.
Adjust Airflow via Changing lnsertion Direction of the POD
Enjoy optional MTL or RDTL vaping experience according to your preferences, thanks to the new and improved vaping technology, you can get totally different airflow intake by changing the insertion direction of the pod.