Description
Element Klik Klak Disposable Vape – Ice 20MG
Klik Klak Ice Disposable Vape by Element creates a refreshingly cool Ice flavour profile that is classically executed with every single vape.
Featuring a Patented Magnetic Technology, any two Klik Klak devices can be magnetically joined together to create up to 55 unique flavour combinations.
The Klik Klak Disposable Vape Device offers a unique solution to everyday vaping. Magnet Technology on the side of each device allows users to click two separate Klik Klak devices together, making  4ml and 1200 puff disposable device!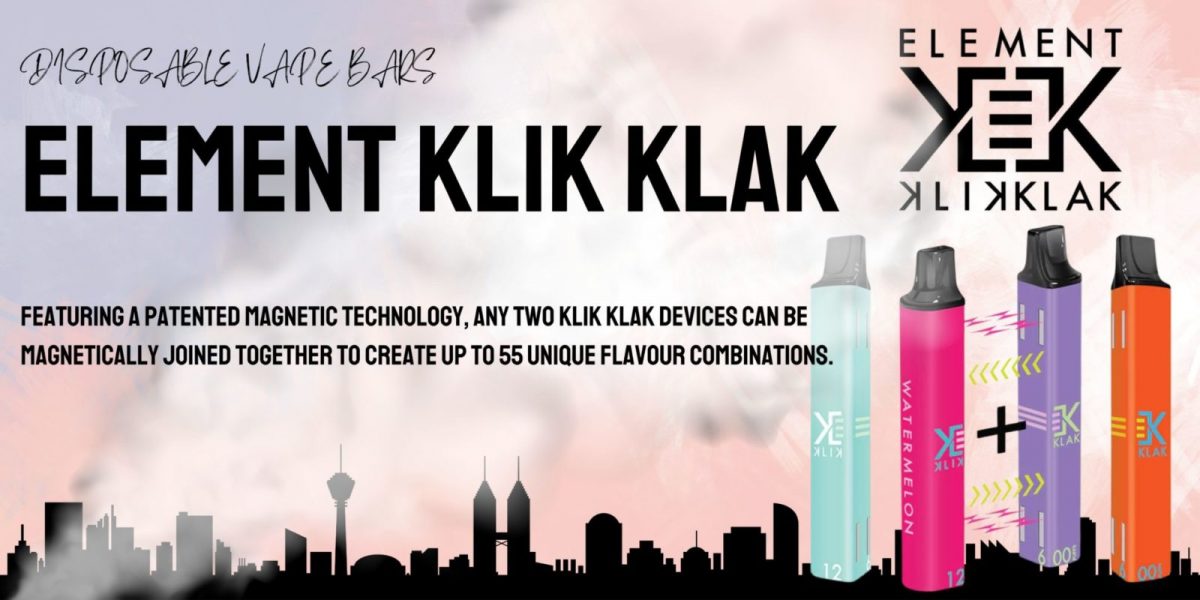 Product features
2ml E-Liquid Capacity (4ml when combined)
600 puffs (1200 when combined)
20mg Nicotine Salts
Patented Magnetic Technology
10 Flavours
55 Unique Flavour Combinations
What's included
1 x Element Klik Klak Disposable Vape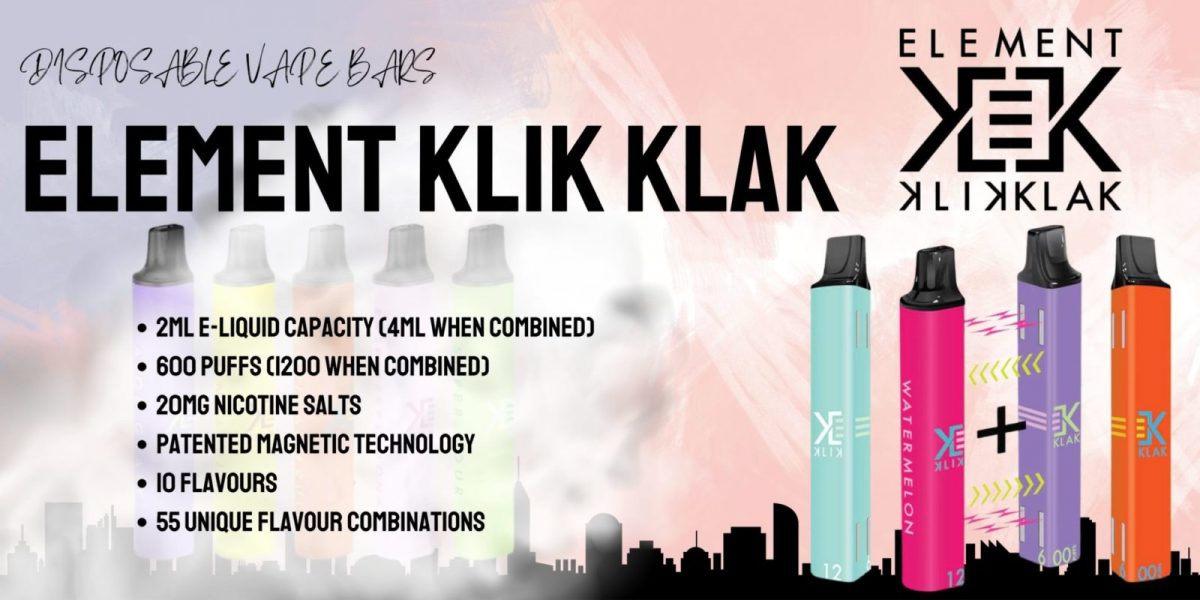 Questions Asked
How do Klik Klak disposables work?
Klik Klak's work exactly the same as any other disposable vape device, simply remove the seal from the base of the device and start vaping. The difference is any two Klik Klak's can be magnetically joined together to create a new flavour.
How many puffs are Klik Klak disposables?
Each Klik Klak will provide around 600 puffs, when two are joined together this will double to around 1200 puffs.
Who Makes Klik Klak disposables?
Klik Klak are made by Element Vape, a well respected e-liquid brand from California, USA. Element Vape are renowned for their high quality e-liquids and designer Nic Salts.
WHY USE NICOTINE SALTS?
Nic Salt E-liquids are made to be used in Mouth To Lung vape systems, particularly in pod systems. Nicotines salts have proven to be hugely popular in the vaping scene for the huge benefits over the conventional freebase nicotine E-liquids. Nic Salts deliver a much smoother vaping experience, meaning the vape is a lot less harsh on you're throat, but at the same time you still get that nicotine hit.
Generally, you'll tend to be using you're vape less as you get a strong nicotine hit from a couple of puffs. Nicotine Salts are a perfect option for those who would like to make the switch to vaping from smoking cigarettes. Nic Salts also less affect the flavour of the e-liquid in comparison to freebase nicotine liquids, providing you a much more vibrant flavour.