Description
IVG 2400 – Pineapple Ice (Disposable Pod Kit) 20MG
Introducing the first 2400 puff disposable vape in the UK by IVG! Each device comes pre-filled with 20mg salt nicotine, providing a satisfying throat hit and delicious flavour. Nicotine salts are absorbed faster than regular nicotine, delivering immediate relief from cravings. The 2400 disposable vape is also 75% more environmentally friendly than standard disposables, reducing plastic and battery waste. Compared to competitors, the 2400 IVG disposable offers 95% greater value per puff.
The IVG 2400 Disposable Vapes feature 4 x 2ml pods, 4 x mesh coils, and a spinning pod system. When one e-liquid pod is empty, simply switch to a fresh pod to continue vaping. The built-in 1500mAh battery provides enough power for 2400 puffs. These convenient disposable devices are draw activated, requiring no complex buttons or menus. Just inhale from the mouthpiece to start vaping!
The Multi Edition gives you 4 different fruity flavours to choose from, just simply lift and twist to try another flavour.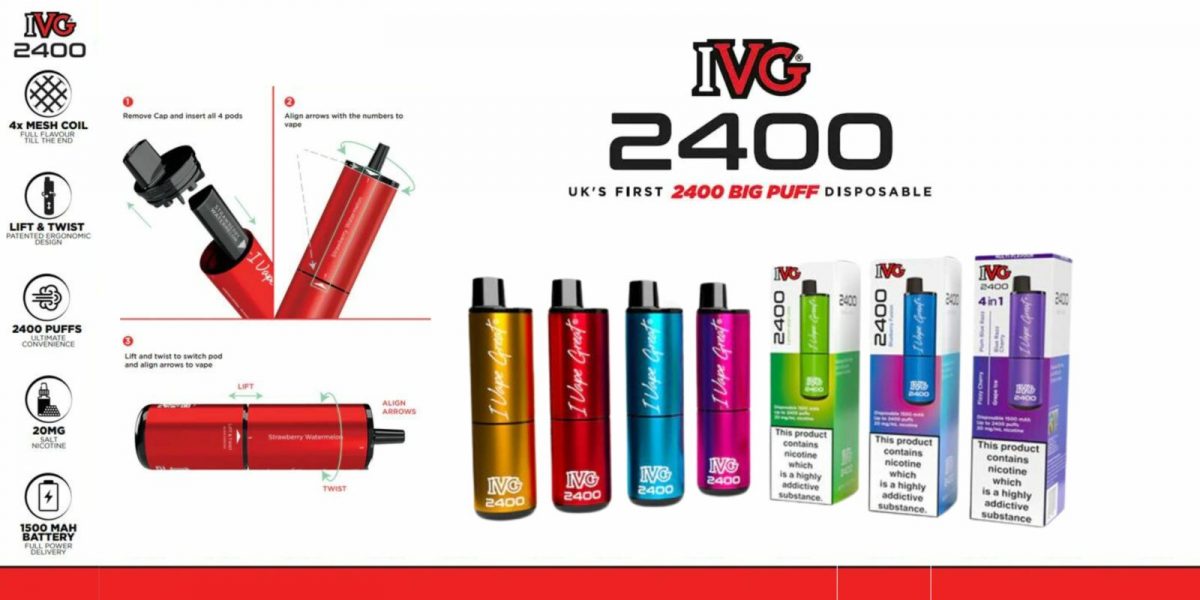 Product features
Up to 2400 Puffs
20mg Salt Nicotine
1500mAh Battery
Draw Activated
4 x Mesh Coils
Revolving Pod System
4 x Pre-filled With 2ml of E-liquid
TPD Compliant
What's included
1 x IVG 2400  (Disposable Pod Kit) 20MG
The IVG 2400 Disposable Vape Kit is revolutionising the standard single-use vaping devices. Included in each kit are four mesh coil cartridges each pre-filled with 2ml of e-liquid. Simply load the 1500mAh battery device with all four pods and you're ready to go!
IVG are a EU manufacturer of premium E-Liquids and Hardware. They have a vast array of delicious flavours that have risen to fame thanks to the high quality of their E-Liquid manufacturing processes and delicious flavour creation.