Description
Lost Mary BM600 – Pineapple Ice (Disposable Pod Kit) 20MG
Pineapple Ice :
Is an exotic blend highlighting the juicy taste of fresh succulent pineapple flesh, complimented with an icy undertone to enhance your vape experience with every inhale and exhale.
The Lost Mary Vape Kits are designed with the comfort of first-time vapers in mind. These kits are compact, lightweight and ergonomic, so you can vape on the go with ease.
Key to its design, the Lost Mary device is simple, with no complicated buttons, settings or compartments. From the moment you receive your vape, you'll be set up and ready to enjoy that powerful flavour.
Let's take a look at some of the features:
A beginner-friendly disposable vape device made to fit comfortably in your hand and against the lips. The size of this vape is 66 x 35 x 16 mm – in other words, very compact and discreet!
18 varied summer-inspired fruity flavours to choose from, from juicy blueberries to mango flavours to satisfy your sweet tooth.
2ml of e-liquid capacity filled with nicotine salt e-liquid in 20mg (2%) nicotine strength. This is the perfect solution for those looking for cigarette smoke replication if switching to vaping for the first time.
For those who enjoy a more authentic smoking experience, the Lost Mary range is an ideal option. This vape device is equipped with inhale-activated technology, eliminating buttons and settings. To activate the vape device, simply inhale through the mouthpiece to trigger an MTL (Mouth to Lung) vape. This delivers a subtle amount of vapour for a blissful vaping experience.
The 550mAh battery capacity will ensure you can enjoy it for up to 600 puffs per device, making it an ideal option for those looking for a basic and easy-to-use device.
All 2ml versions of Lost Mary products are fully TPD compliant.
Shop our Lost Mary disposable vape range for fantastic flavours and a satisfying vaping experience!
Product features
2ml E-Liquid Capacity
20mg Nicotine Salts
550mAh Battery
Designed with dual mesh coiling technology
What's included
1 x Lost Mary Disposable Vape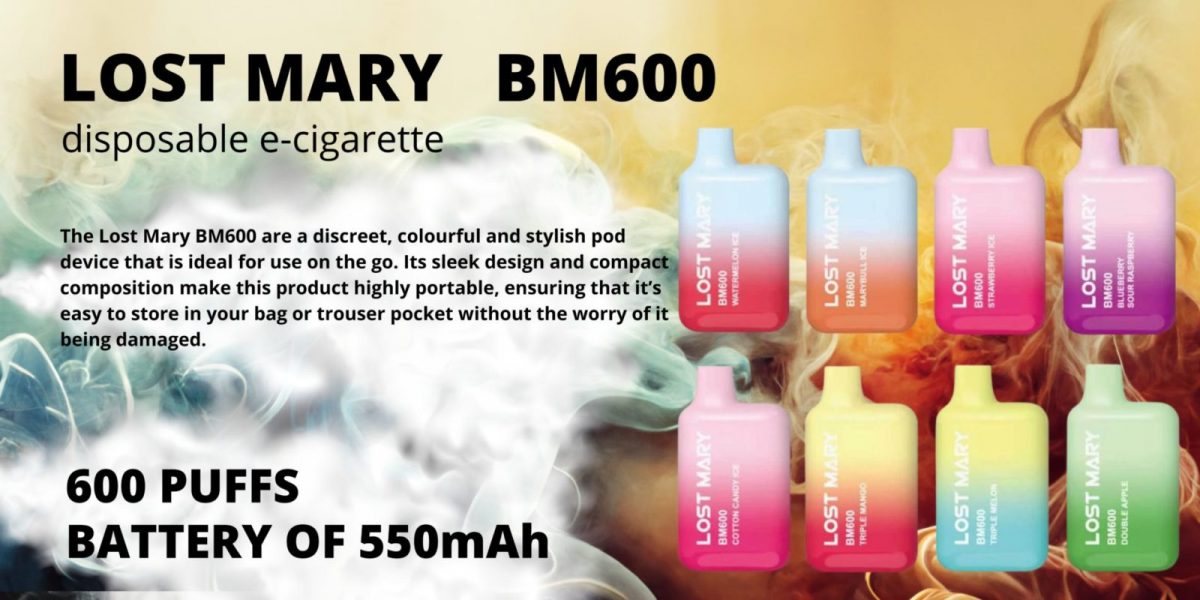 Questions Asked
Can I recharge a Lost Mary vape?
The BM600 and AM600 are not made to be recharged. The purpose of the BM600 and AM600 vaping pods is to provide a quick-and-easy device to be used until the battery dies. Once your disposable vape pod has run out, safely dispose of your vape and replace it by shopping with XMANIA.EU.
How long does a disposable Lost Mary vape last?
The Lost Mary range of high-quality disposable vapes are powered by a 550 mAh built-in battery and pre-filled with 2 ml of 20 mg (2%) nic salt e-liquid, providing up to 600 puff counts.
How much nicotine is in a Lost Mary vape?
From the BM600 and AM600 disposable vape pods, you can expect 20mg of nic salt e-liquid.
Are Lost Mary vapes safe?
When purchased from a reputable supplier like XMANIA.EU, Lost Mary vapes are safe to use. This disposable pod, manufactured by Elf Bar, follows all of the electrical safety regulations of other types of vapes, so you can rest assured that your vape is safe to use.
What are Nicotine Salts?
Nic salt e-liquid is a juice that contains nicotine in a salt form. As opposed to freebase nicotine, which is the purest form of nicotine available, nic salts contain naturally extracted ingredients from tobacco leaf. Nicotine salts are absorbed into the bloodstream much quicker and more efficiently than freebase nicotine – delivering a fast nicotine fix.
If you're looking for an introduction to vaping, the Lost Mary disposable e-cigarette comes pre-filled with nic salt e-liquid.