Description
VOOPOO DRAG X PLUS VAPE KIT
From an aesthetic point of view, the Voopoo Drag X Plus mod, although it does not present significant aesthetic innovations compared to the previous models of the Drag series, is in our opinion, a stylistically pleasant and rather compact mod. The metal-fabric combination with a sort of nubuck effect on the body of the box is noticeable. The design is not exactly minimal and you can also notice it from the very bright and colorful display, in a classic Voopoo style. Overall, also considering the appearance of the TPP Pod Tank, certainly not inconspicuous and not among the most beautiful on the market, we can conclude that this new kit by Voopoo has a somewhat vintage design and lines that will certainly find many fans.
Talking about the build quality, we can only underline the excellent work done by Voopoo, who managed to create a light product (body in galvanized aluminum) but at the same time solid and robust. All the finishing touches of the Drag X Plus are precise and flawless, as are both its buttons and the bright color display. The workmanship of the TPP Pod Tank is also good, although you have the feeling that the manufacturer has paid less care and attention in making it, focusing on the other hand on the mod, the main and most important element of this kit.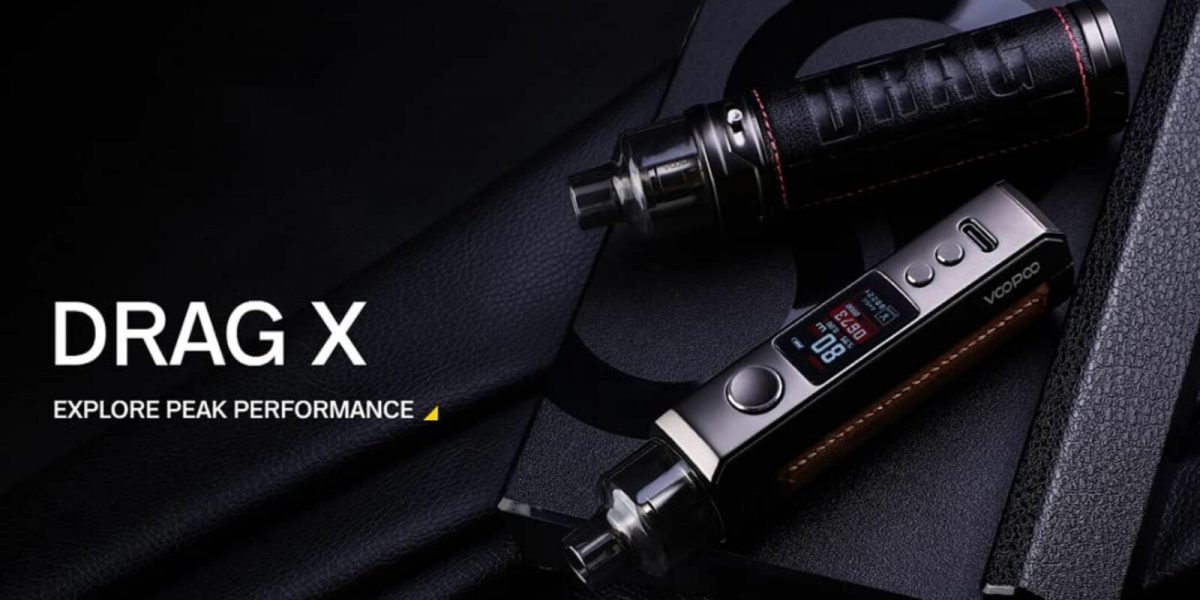 Features:
Brand:VOOPOO
Product Name:Drag X Plus Kit
Kit Size:141*35*29mm
Mod Size:88*35*29mm
Power Range:5-100W
Resistance Range:0.1-3.0ohm
Input Voltage:3.2V-4.2V
Battery:Single external 18650 battery (Battery not included)
Mod Material:Zinc Alloy & Leather
Screen:0.96 inch TFT screen
Capacity:5.5ml
TPP Pod Tank Material:Zinc Alloy + PCTG
Standard Coil:TPP-DM1/TPP-DM2
Compatible Tanks:TPP Pod Tank: all TPP Coils, PnP Pod Tank: all PnP Coils
Contains:
 Drag X Plus Device
 TPP Pod Tank (5.5 ml)
 TPP-DM1 coil 0.15 ohm
 TPP-DM2 coil 0.2 ohm
Type C USB cable
 User Manual
VOOPOO DRAG X PLUS VAPE KIT now in Ireland
So lets start with probably best selling vape pod system called Voopoo Drag X plus in Ireland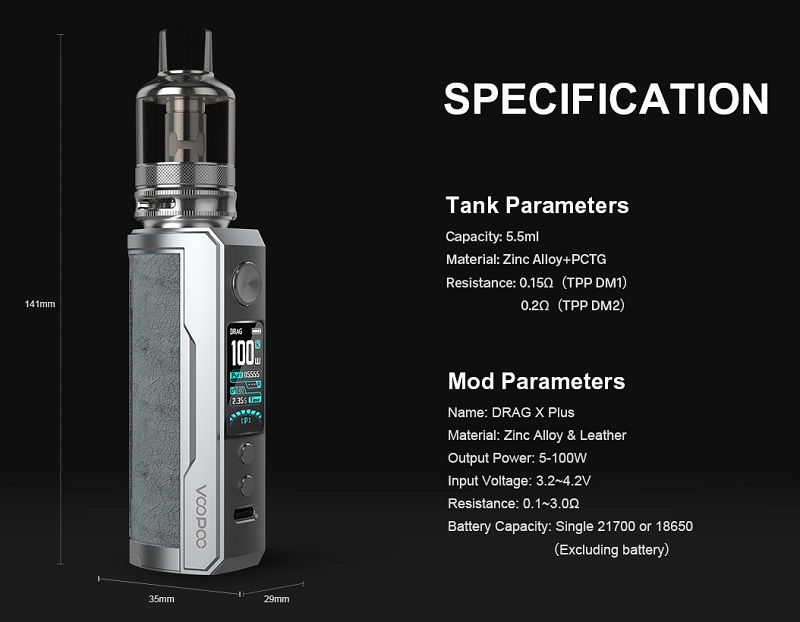 Drag X plus – master piece in vape pods starter kits
Once again, the world best selling Drag range of Voopoo welcomes the newest member. There is no doublt that its predecessor Drag X kit was the best pod kit worldwide and it started to write a new era of vaping. Most of us that time used big massive box mods and vape at 150 – 200Wats. With Drag X kit everything changed. We were all getting our hands on it and together with the kit we were discovering new world of vaping nic salts, which are amazing. Time flies and Voopoo upgraded Drag X kit and bring us newest Drag X plus kit.  It offers dimensions of 141 mm x 35 mm x 29 mm, or for your imagination it is 46 mm larger than the Kit Drag X. However, its width and depth remain almost unchanged. In the tradition of using best materials previously, the Drag X Plus presents as an elegant mixture of leather and zinc alloy. Voopoo brought this materials to vape industry and since than most of the competitors start to use same design or materials.
Drag X plus batteries and charging
Drag X plus pod kit is powered by external battery. This is the biggest improvment compare to older version Drag X, as new plus version can take both 18650 batteries. For those, they never used 21700 batteries, this batteries are bigger and usually content more capacity. That measn you can enjoy your vape kit longer.
To charge your new Drag X plus kit it is recommended from safety reassons to use 18650 or 21700 battery chargers.
If you do not have special chargers for those batteries, A USB Type-C port is also present on the front of the Drag X Plus and fast charging is available.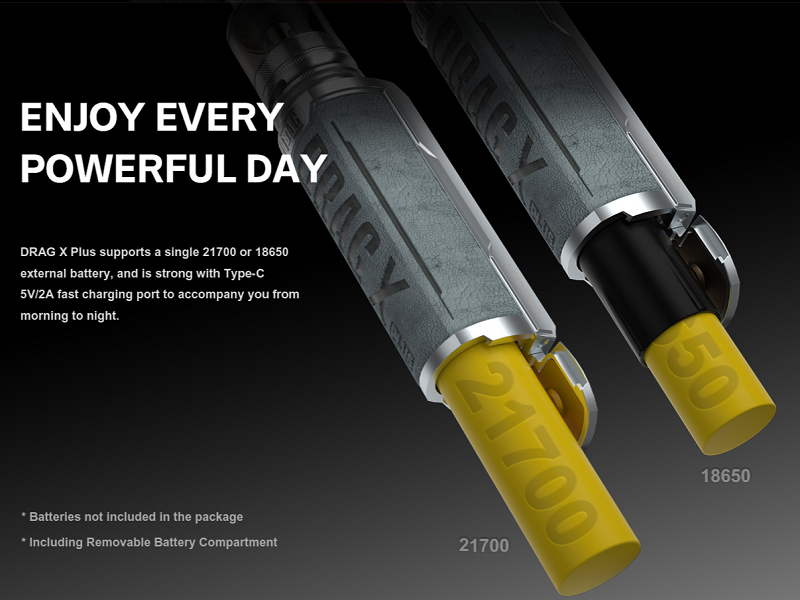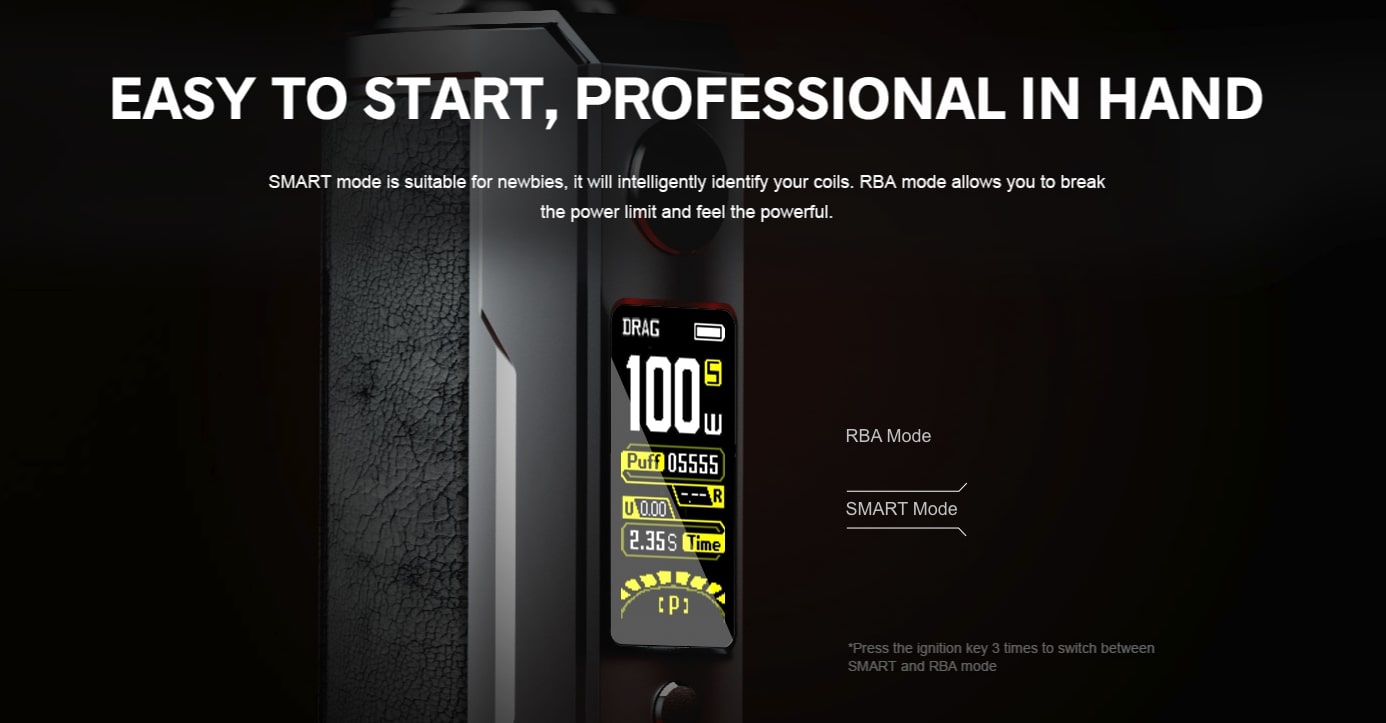 Drag x pod kit – sexi, powerfull, modern and safe
No doubt, Drag 3 pod kit is perfect looking kit. It also uses the Voopoo newest Gene.Fan 2.0 chip. Thanks to this Chip it offers power of up to 100W, which can be adjusted manualy. It also offers smart mod, which will read resistance of your coils and set up the best power for it. So no more burned coils. Out of the box the Drag X Plus only comes with Smart mode and RBA mode enabled. If you want to use TC then you'll have to download the Voopoo software program and Drag X Plus firmware update from Google Drive here.
Voopoo drag x plus kit display
The easy to read screen is big with full color display. The contents of Display is clear and bright. Sizewise it is the same size as Drag X but it is a bit brighter. Thanks to the UI function you can choose if the infomation are displayed horizontally and the other vertically. To change the display mode, simultaneously press the "+" and "-" buttons.
Informations you can see on the display of Drag 3 plus mod are:  battery life indicator, your mode, wattage, a puff counter, voltage, coil resistance, and puff time.
.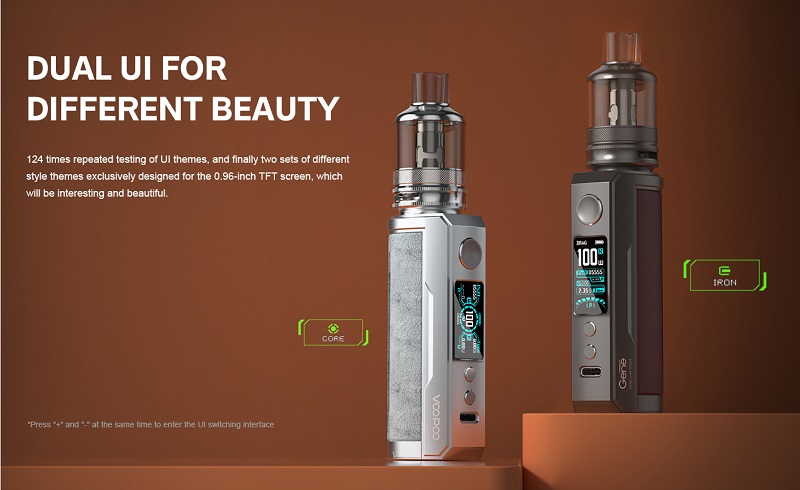 Drag X plus pod mod operation
Voopoo X plus pod kit is very easy to operate. The main and biggest power button and adjustment buttons are round with a shiny silver accent ring. They all feel really well build and work nicely. The battery door on the Drag X Plus slides out and then opens up. It's firm and solid opening door with a spring-loaded door and it works well and does not open itselfs.
Power On or Off: Press the fire button 5 times.
Switch Modes: Press the fire button 3 times.
Change UI: Hold both adjustment buttons to bring up the UI menu. Then use the adjustment buttons to select the UI you desire. Hold the fire button to confirm.
Lock/Unlock All Buttons (Including the Fire Button): Hold the fire button and top adjustment button together.
Reset Puff Counter: Hold the fire button and bottom adjustment button together.
Open TC Settings Menu: Hold both adjustment buttons while in TC mode. Here you can change the TCR value, adjust the wattage, and set the coil resistance.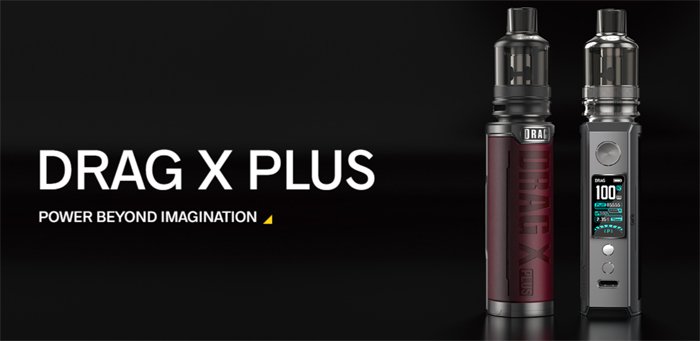 Is Voopoo Drag x plus a good pod kit?
Drag X plus by Voopoo is really good e-cigarette kit. It is not only for beginners but also for most advanced vapers.
Thanks to its size, functions, safe features and versatility of use it is super safe pod system.