If you want to start a new chapter in your vaping journey, there are so many options you might be considering when trying to enhance your experience. This is something that you need to try to make the most of, and Klik Klak is one of the best vape choices on the market. So let's take a quick look at the Klik Klak disposable vape, as well as what it can offer you moving forward.
Klik Klak Vape
You might be au fait with some of the big names on the market, such as Elf Bar, but Klik Klak is one of the up and comers that is starting to make waves on the vaping scene. Developed by Element, this is a unique and innovative product, with plenty to offer, as well as robust flavours that are not too strong or overwhelming. A newer option that is growing in popularity due to one of our favourite USPs on the market.
How Many Flavour Combinations does Klik Klak bar offer?
The Klik Klak vape devices offer 10 unique individual flavours, but its stand out feature is a game-changer for unlocking more flavours. The stunning Patented Magnet Technology on the side of each bar allows for two bars to be magnetically paired, and allows you to enjoy up to 55 different flavour combinations in the process! This provides users with 4ml of fully compliant liquid, which is a huge edge on the 2ml offered with regular vape bars.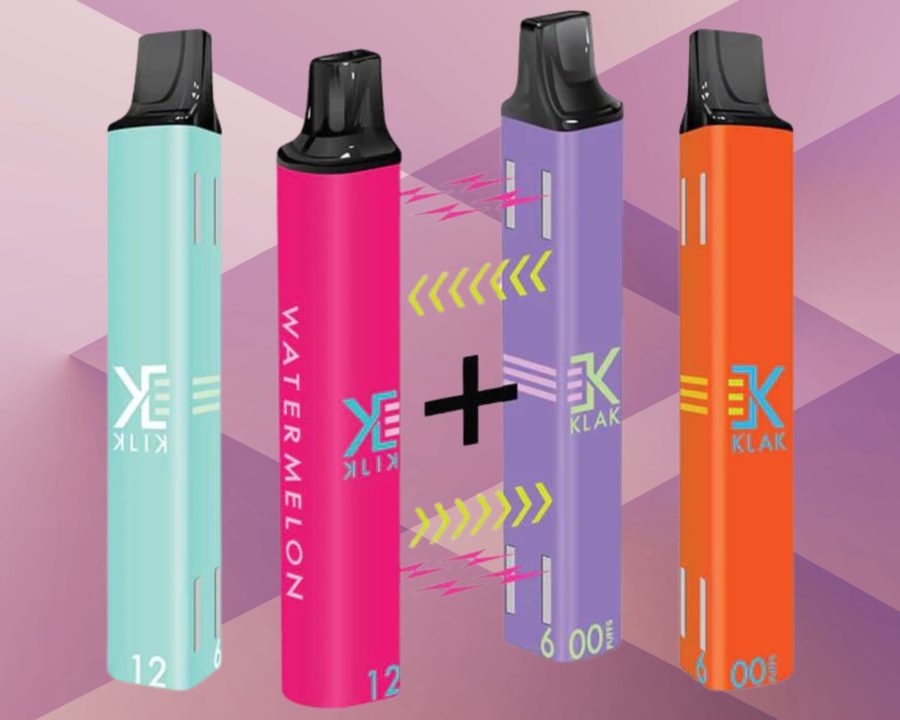 7 Best Flavour Combinations of Klika Klak Vape
Being able to find the ideal flavour combo to suit your palate is super important, and there is so much you can experiment with when you are looking to make the right decisions and Here are 7 of the best flavour combinations we would recommend right now.
1. Watermelon and Ice
At the top spot we have an absolute classic, the Numero Uno of vaping flavour combinations. This is a flavour that is ubiquitous across the vaping world, and for good reason as well. There are so many amazing things to like about his flavour combination, and this is something that can elevate your vaping experience. The juicy, tropical allure of the watermelon tingles your tastebuds and whets your palate, without ever being overwhelming. And then, for the coup de grâce, the crisp and cooling blast of the icy menthol caps this off as one of the best flavours ever to hit your tongue!
2. Tropical Fruit and Pineapple
Tropical fruit is an appealing enough vape, tingling the fruity taste buds, and tantalising your mouth, and it's even more enjoyable when layered with rich pineapple as well. This makes for a brilliant double of interesting and accessible tropical tastiness. This zesty tangy comb is the perfect accompaniment to cocktails with the girls, beers with the boys, or coffee with your Tinder date. Delightful!
3. Watermelon and Blue Sour Raspberry
Watermelon appears on our list again, and really is one of the best and most versatile flavours on the vaping market. Blue sour raspberry is also one of the leading flavours on the market, giving that fruity and sour tang that tingles your tastebuds and makes your mouth feel like heaven. Combining the two is simply a work of verified genius, and the perfect way of enhancing the watermelon flavour in a way that amplifies all of its best qualities.
4. Pineapple and Passion
If you seek a totally tropical twist, and you're looking for something that resembles Lilt in vape form, this is certainly the combination you're looking for. This tasty tropical sensation provides a cocktail of flavour, and is the perfect refreshing choice for any occasion. It is particularly fitting as a relaxing after-dinner treat, or as an indulgence during a warm afternoon.
5. Raspberry Lemonade and Super Sour
Welcome to a classic fruity flavour with a subtle twist, Raspberry Lemonade & Super Sour is a game changing combination. Not only do you enjoy the succulent raspberry taste, but you also get the fizzy tang of the lemonade, and all of it is capped off by the amazing super sour kick that accompanies, and makes this a sour raspberry flavour the likes of which have never been seen before.
6. Tropical Fruit and Passion
If tropical is your jam, then this stunning and unique flavour combination is the perfect option for you. A cocktail of delightful tropical excellence, with both flavours enhancing one another, and providing the perfect pairing for those seeking an accessible, tasty, and appealing flavour. The great thing with Tropical Fruit and Passion is that it is not an overwhelming choice, but one that will subtly enhance your experience.
7. Peach Ice and Ice
Peach Ice and Ice is the perfect mentholy palate cleanser. For those loving a more minty taste to their vaping, this is the flavour combo that simply cannot be matched. Combining Peach Ice with Ice doubles up on the icy blast you get, with just a hint of heavenly peach to diversify the flavour. Gorgeous!
Shop Klik Klak Disposable Vape with Xmania
As you can see, these are some of the most amazing and remarkable disposable vape flavour combinations anywhere on the market. There are so many things that play a role in helping you to improve this process, and it is essential to find a flavour combo that best resonates with you. This means you need to think about some of the best flavours you can enjoy, which is why this list of the top 7 flavour combinations could prove to be informative and exciting for you in your quest to be able to vape better.
FAQ
What sets Klik Klak disposable vape apart from other popular vape brands on the market?
Klik Klak disposable vape stands out from other popular vape brands due to its unique Patented Magnet Technology.
How does Klik Klak's Patented Magnet Technology work, and what advantages does it offer to users?
Klik Klak's Patented Magnet Technology works by allowing users to magnetically connect two Klik Klak bars, which then combines the flavors of the connected bars. This feature offers users the advantage of enjoying up to 55 different flavor combinations, providing an enhanced and personalized vaping experience.
What are some recommended flavour combinations to try with Klik Klak disposable vape?
Some recommended flavor combinations for Klik Klak disposable vape include:
Watermelon and Ice
Tropical Fruit and Pineapple
Watermelon and Blue Sour Raspberry
Pineapple and Passion
Raspberry Lemonade and Super Sour
Tropical Fruit and Passion
Peach Ice and Ice
Is it possible to create custom flavour combinations using Klik Klak disposable vapes?
Yes, it is possible to create custom flavor combinations using Klik Klak disposable vapes. With 10 unique individual flavors and the ability to magnetically pair two bars, users can experiment with different pairings to find their perfect flavor combination, offering up to 55 different flavor combinations.
Where are Klik Klak disposables from?
Klik Klak disposables are produced by Element Vape, a well-established vape brand based in California, USA. Collaborating with leading manufacturers, Element Vape is committed to creating top-quality products in compliance with the latest regulations, ensuring a premium vaping experience for its customers every time. With their innovative Patented Magnet Technology and numerous flavor combinations, Klik Klak disposable vapes offer a unique and enjoyable vaping experience that sets them apart from other brands in the market.
Disclaimer: All information provided in this text is for educational purposes only. The purpose of the article is in no way to entice and encourage anyone to abuse any addictive substances. The text is not intended for persons under the age of 18.