Searching for a comprehensive Lost Mary Vape review? Look no further!
In this article, we'll delve into the features, benefits, and our experiences with the Lost Mary BM600 disposable vape device.
Whether you're a beginner vaper or an experienced user, the Lost Mary Vape offers a convenient and flavorful vaping experience that's hard to resist.
Join us as we explore the ins and outs of this popular vape device and discover why it's one of top choices in Ireland's vaping community.
Get ready to enter a world of exquisite flavors and hassle-free vaping with the Lost Mary Vape!
As a leading pioneer in the vaping industry in Ireland, Xmania brings with it extensive expertise and knowledge. With a strong focus on customer needs and satisfaction, Xmania is dedicated to providing high-quality products and exceptional service. Our commitment to the vaping community is reflected in our selection of the best disposable vape kits and top-notch packaging services.
Disclaimer: All information provided in this text is for educational purposes only. The purpose of the article is in no way to entice and encourage anyone to abuse any addictive substances. The text is not intended for persons under the age of 18.
Lost Mary BM600 Overview
For the best vaping experience, finding the perfect device that combines ease of use, rich flavors, and portability is essential. The Lost Mary BM600 disposable vape device offers all those features and more.
Manufactured by Elf Bar, the Lost Mary BM600 is designed with dual mesh coiling technology, ensuring every puff has a rich, delicious flavor. With its beginner-friendly design and inhale-activated technology, this disposable vape device is a hassle-free option that provides an excellent vaping experience.
Compact and discreet disposable vape device that fits comfortably in your hand and against your lips
Portable and easy to carry wherever you go
Pre-filled with 2ml of e-liquid, containing nicotine salt e-liquid with a nicotine strength of 20mg (2%). (This nicotine salt formulation replicates the sensation of cigarette smoke, an excellent choice for transitioning from smoking to vaping)
All 2ml versions of Lost Mary products are fully TPD-compliant, ensuring safety and quality
Perfect for beginners and experienced vapers
More about how Lost Mary compares to Elf Bar: Elf Bar vs. Lost Mary  What is the difference?
Summary From Our Lost Mary Vape Review
Our scores:
Performance: 10/10
Ease of use: 10/10
Nicotine intensity: 10/10
Availability of flavors: 8/10
Price: 10/10
Design: 10/10
Overall score: 9.7/10
Pros
Good tasting puffs
Longer lifespan than other vapes
Slim for perfect fit in a pocket
Exceptional design
Affordable price
Long-lasting flavors
Cons
Not as many available flavors as other disposable vapes
Some flavors might be too sweet for some
Non-rechargeable device
Disposable nature may not appeal to all users
Our top Lost Mary Vape flavor:
How long Lost Mary Vape lasts:
1-2 days for heavy vapers
3-4 days on average for moderate vapers
Detailed Lost Mary Disposable Vape review
1. Ease of Use
The Lost Mary BM600 scores a perfect 10/10 for ease of use. From the moment you draw your first puff, the simplicity of its inhale-activated technology is evident. There are no buttons to fiddle with and no settings to configure – you just inhale through the mouthpiece to trigger an MTL vape. A simple, smooth, effortless draw that leads to a satisfying cloud of vapor.
This user-friendly nature is one of the main reasons we love the Lost Mary BM600. Even if you're new to vaping, you'll find it exceptionally easy to get started with this device.
2. Flavors
The Lost Mary vape offers a wide range of 18 fruity flavors to choose from, including blueberry, mango, and the popular watermelon flavor. Although some users note the flavors can be quite sweet, we found them to be enjoyable. However, we found the flavor selection somewhat limited compared to other brands.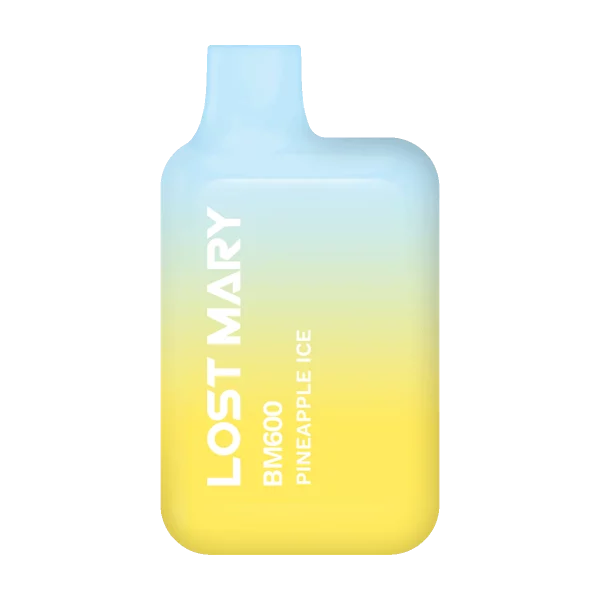 Our personal favorite flavor is Pineapple Ice, a nice blend that delivers a cooling sensation on the exhale.
Read more: 7 Best Lost Mary Vape Flavours
3. Longevity of Battery Life
The battery life of the Lost Mary BM600 is impressive. With a 550mAh battery, it can provide you with up to 600 puffs. This will certainly last a day or two, even for heavy vapers. Lighter vapers might find it lasts anywhere from 3 to 4 days on average. Plus, the LED indicator light is a helpful feature that keeps you aware of its remaining battery life.
From our experience, when compared to other disposable vapes, the Lost Mary vape lasts a bit longer.
4. Design
When you first hold the Lost Mary vape, you'll appreciate its slim profile and lightweight design. It fits perfectly in your hand and is discreet enough to slip into your pocket without creating a large bulge, perfect for on-the-go vaping.
Its sleek and colorful design is trendy, sure to catch the eye.
5. Affordability
Considering the quality and the features it offers, the Lost Mary BM600 is quite affordable. It is an excellent choice for those who want a high-quality vape without breaking the bank.
6. Packaging
The Lost Mary BM600's packaging is compact and secure. Each vape comes in a neatly designed box with all the necessary information clearly available for reading. The device itself is also sealed to ensure freshness and quality.
Conclusion
The Lost Mary BM600 is an exceptional performer in the disposable e-cigarette arena; our experience with this disposable vape was genuinely pleasing. We highly recommend this easy-to-use, long-lasting, and compact product. Whether you're new to vaping or an experienced vaper looking for a change, the Lost Mary BM600 is a great choice.
We hope you've learned all you needed to when making an informed decision whether to purchase the Lost Mary. If you're interested in experiencing the Lost Mary BM600, check out our Lost Mary collection and enjoy vaping with our next-day delivery in Ireland. After all, there's nothing like a first-hand experience to fully convince you!