Description
ASPIRE ZELOS 3 VAPE KIT
In addition to Variable Wattage, you can take advantage of several other output modes the Zelos 3 has to offer. With Temperature control, you can set a maximum temperature and experiment with flavour, without the risk of the coil running too hot. Choosing Bypass mode enables you to generate maximum power for a hard hitting vape. And with Customisable Power Settings you can also fine-tune your heat ramp-up (power curve) to select a time from 1 to 15 seconds. All this is accomplished with the aid of a 0.96-inch colour screen that also displays essential information about wattage, temperature and a puff counter.
The 2ml tank features a slide-open top-filling system that reduces the chance of leakage. The adjustable airflow enables you to choose between a tighter or looser inhale. And the press-fit coil installation system, coupled with the e-liquid shutoff valve, makes coil replacement clean and easy. The kit is compatible with the Aspire Nautilus coils. With the included 1.8 Ohm Nautilus BVC Coil we recommend a 50% VG or high PG e-liquid and 70% or higher VG e-liquid with the 0.7 Ohm Nautilus 2S Mesh Coil that also comes with the kit.
In addition to all these features, the Zelos 3 offers excellent protection against vaping overtime and overheating, low voltage, overcharge and overdischarge; as well as short-circuit protection. It is a versatile kit for anyone new to vaping and you can adapt it as your vaping needs change over time.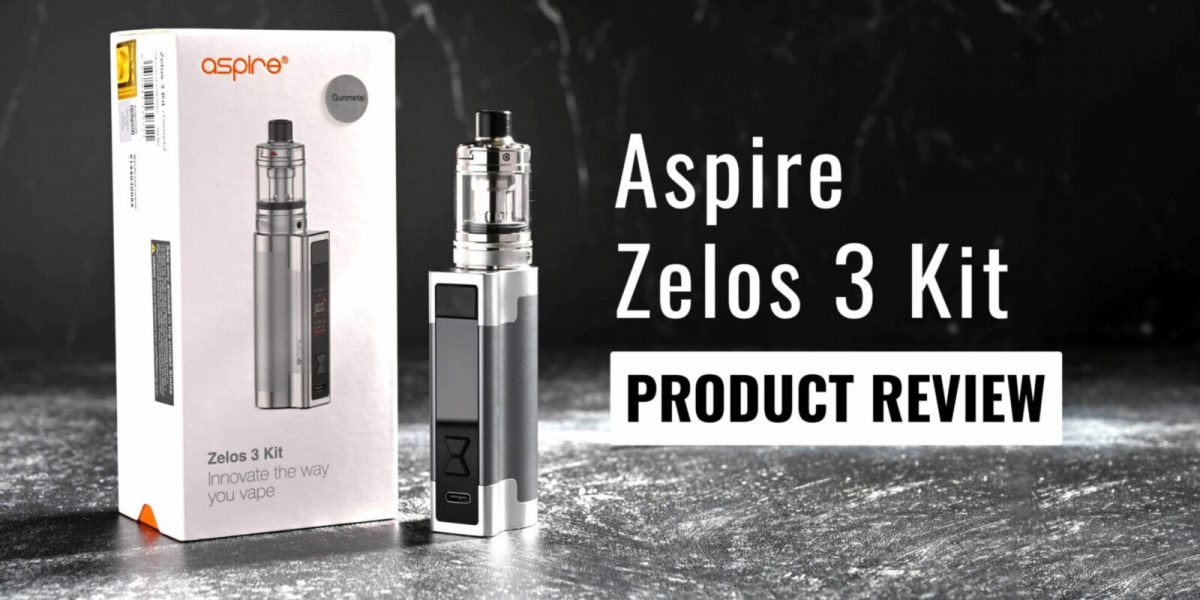 Features:
MTL Vape Kit
3200mAh Battery
Adjustable Wattage Range: 1-80W
Smart ASP Chipset
Multiple Modes
2ml Top Fill Tank
Bottom Adjustable Airflow
Wide Range Of Compatible Coils
Contains:
Zelos 3 Mod (3200 mAh)
Nautilus 3 Tank (2.0 ml)
Nautilus BVC Coil 1.8 Ohm
Nautilus 2S Mesh Coil 0.7 Ohm
Type-C Cable
Spare Drip Tip
User Manual
Aspire Zelos 3 Starter Kit
Aspire Zelos 3 kit is a long-anticipated release of yet another popular Zelos line. Building on the success of its predecessor Zelos and Zelos 2.0, Aspire Zelos 3 packs a larger built-in battery capacity with USB-C quick charging port. It sports a new attractive ergonomic look, and it's made from light yet durable aluminium and zinc alloy.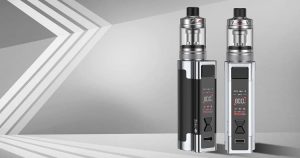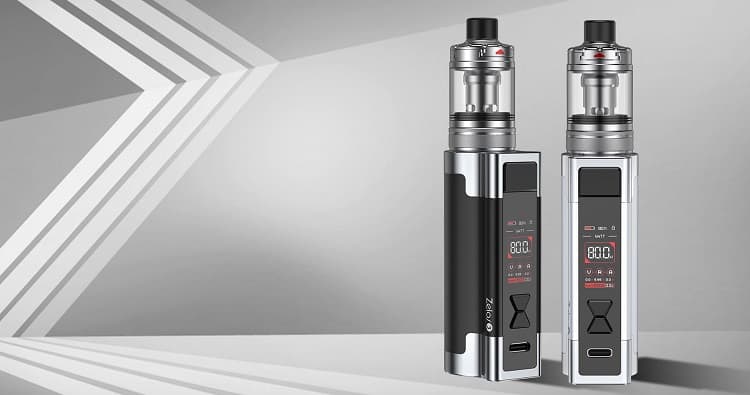 Easy-access control buttons allow for fast and easy set-up and a large 0.96in colour TFT display with adjustable brightness, providing a clear indication of your vaping data. Also, you can choose from 5 screen colour themes. The internal battery offers a very generous 3200mAh capacity, and it can produce up to 80W firing power.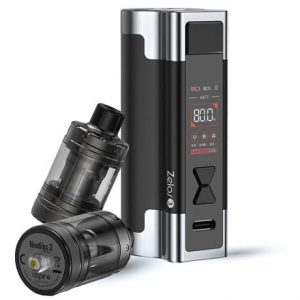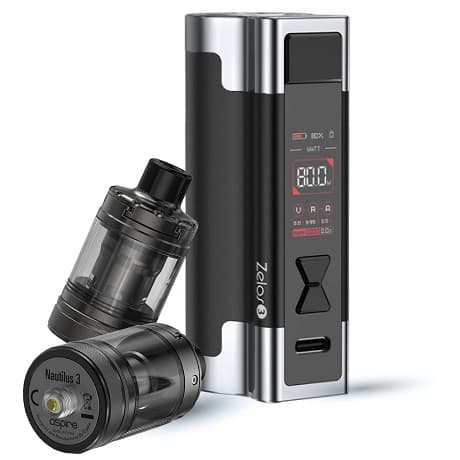 Zelos 3 is packed full of many vaping modes, such as voltage, wattage and bypass. It also includes TC and TCR modes, which allow temperature control, plus CPS mode, which lets you set your heating curve. You will be spoilt for choice! Aspire's own designed ASP chipset makes your vaping safe, including overcharge, short circuit protection, overheat protection and low voltage protection, just to name a few.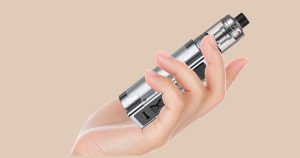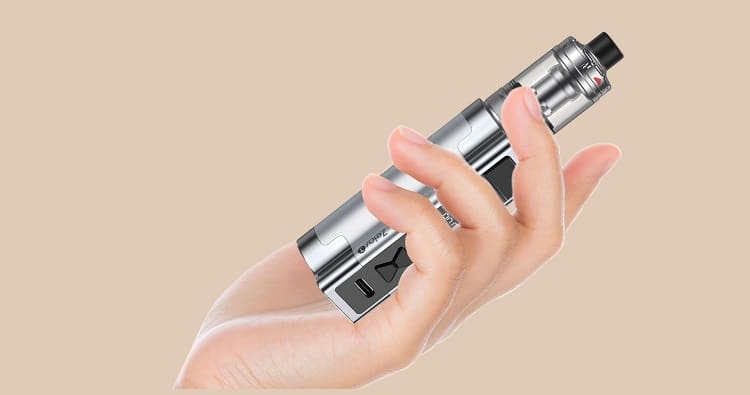 Aspire Nautilus 3 Tank
Last but not least, let's welcome back the legend of Nautilus tanks. The latest in its series, Nautilus 3 tank, maintains its high quality and reputation as one of the best stock coil tanks made. It has a 2ml capacity(or 4ml with spare glass), easy to fill top slide fill mechanism and precise airflow adjustment. On top of that, the Nautilus 3 tank is compatible with all Nautilus BVC and Triton Mini coils for an unbeatable MTL vape.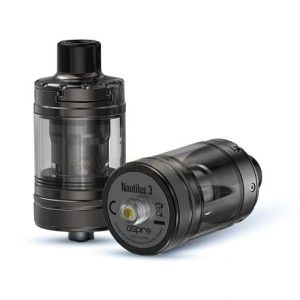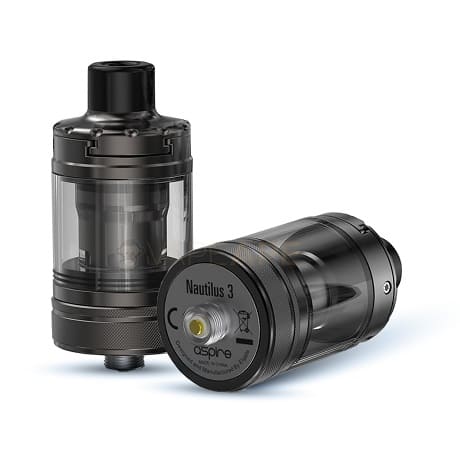 Each Nautilus BVC coil has been designed to provide a flavourful vaping experience and build to last! Aspire Zelos 3 starter kit is available in 6 colours to choose from, so you can add your personal touch to your gear. Whether you are a seasonal vaper or someone who is just a novice, Zelos 3 kit is a highly versatile, high-quality kit, which accommodates all your vaping needs!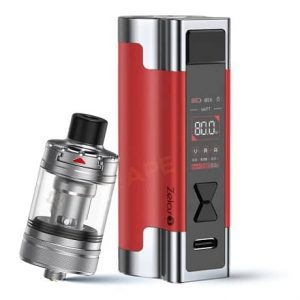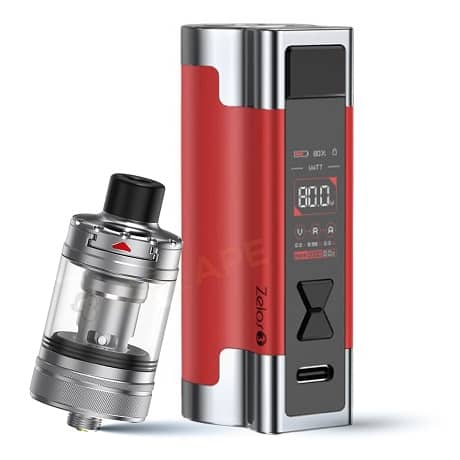 Zelos 3 Kit Dimensions
The fusion of tough zinc and aluminium alloy provides a strong visual impact at first sight. The compact design and comforting thickness contribute to a rugged yet sleek classic look, alongside an incredibly comfortable hand feel.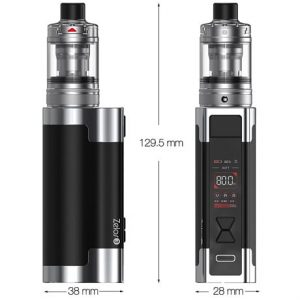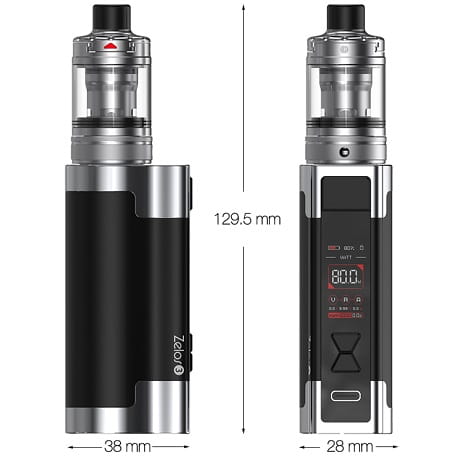 Zelos 3 Kit Spare Parts and Components in Detail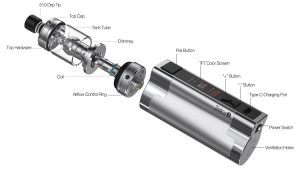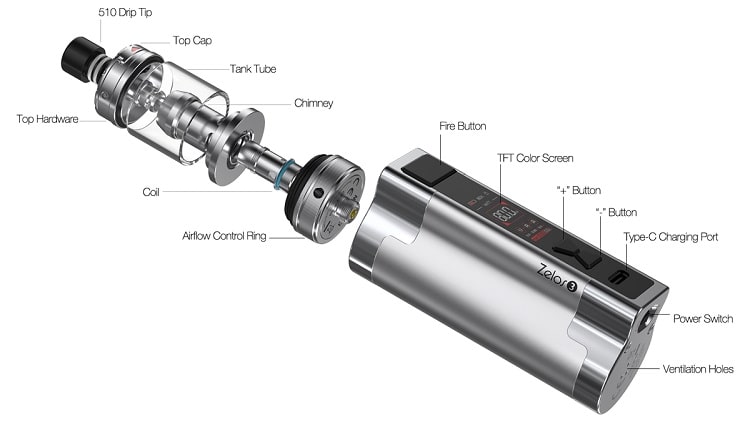 ASP Chipset
Zelos 3 mod supports multiple output mode settings with Aspire self-developed smart ASP chipset system: WATT/ VOLTAGE/ BYPASS/ TC/ TCR/ CPS. Of course, the Zelos 3 comes with the overall protection for safe use.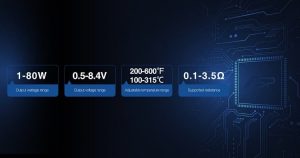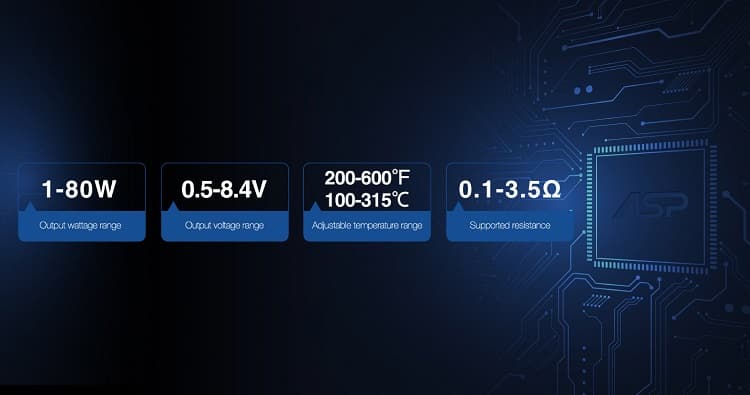 Colour Display and User Interface
The 0.96" TFT colour screen is informative and convenient to read whilst providing all necessary information needed to tailor-make your perfect vape. With different colour themes and adjustable brightness, this screen is maximized to meet your personalized needs.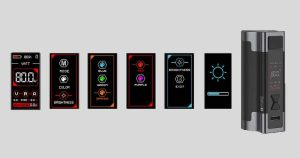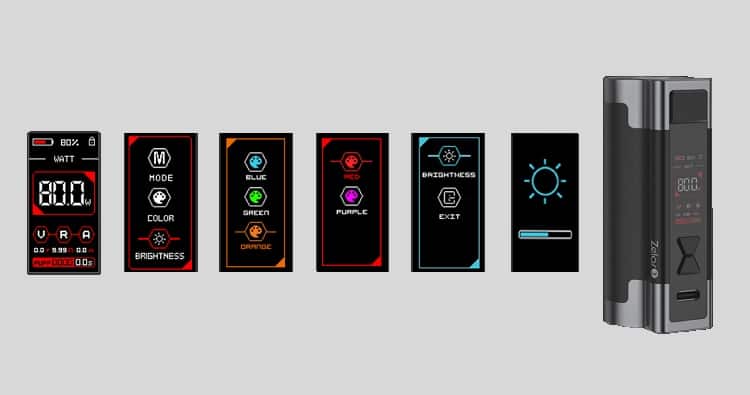 Battery and Charging
Aspire Zelos 3 is powered by a built-in 3200mAh battery, providing all-day vaping. Out of battery? No problem! Zelos 3 has 2A quick charging for a quick top-up.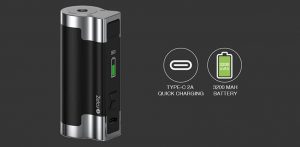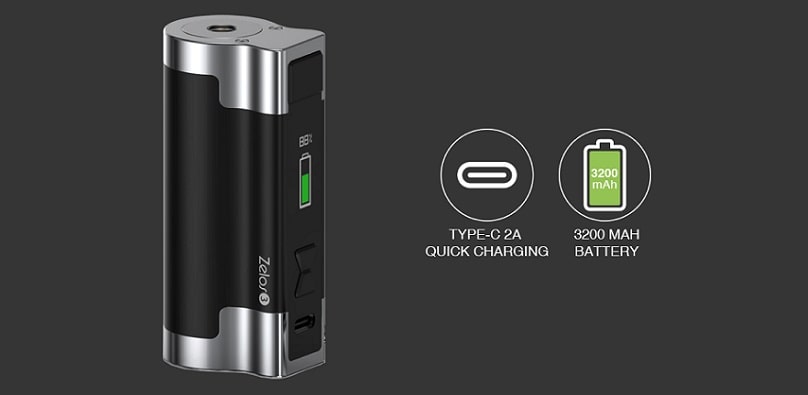 Multiple Airflow Adjustments
Nautilus 3 tank offers several airflow options. The diameter of the airflow holes can be adjusted through 7 different configurations. 3.0mm, 2.5mm, 1.8mm, 1.5mm, 1.2mm, 1.0mm, and 0.8mm ensure a richer and thicker flavour.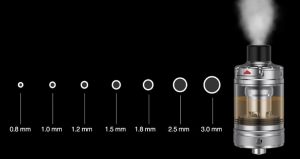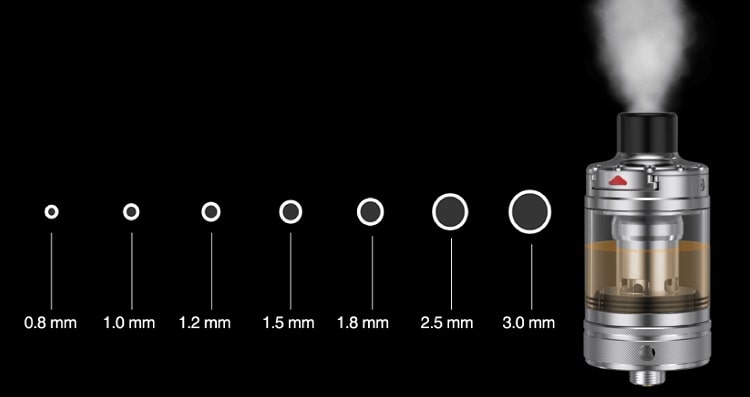 Coil Replacement
The Nautilus tank boasts an innovative press-fit coil change system that makes coil replacement super simple, alongside an e-liquid shutoff valve to prevent e-liquid from getting into the coil chamber whilst you change coils. No mess, much more satisfaction.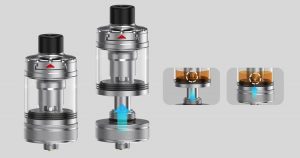 Nautilus BVC Coils
You will never be stuck for choice as Nautilus 3 tank is compatible with all Nautilus series coils.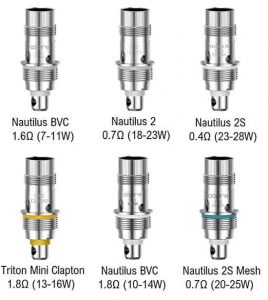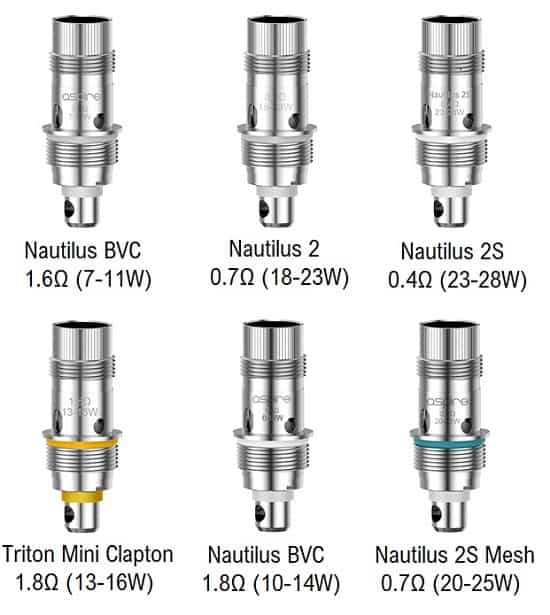 Refilling Tank
Utilizing the super simple full design, simply slide open the top cap and fill your Nautilus 3 with your favourite vape juice.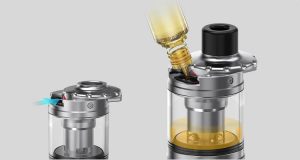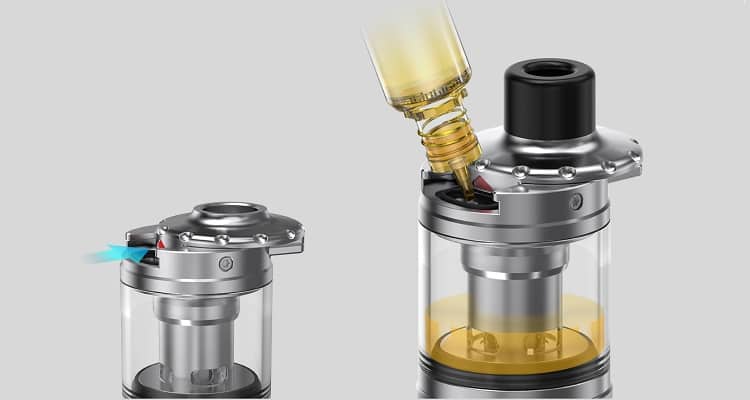 Packing: