At Xmania, we've been puffing away on countless disposable e-cigarettes over the years, riding the flavorful clouds of different brands and blends.
Today, we are diving deep into the fruity, icy, and fizzy world of IVG 2400 flavours and share some unfiltered thoughts on this brand new big puff disposable vape on the market. You in?
Let's dive in!
Disclaimer: All information provided in this text is for educational purposes only. The purpose of the article is in no way to entice and encourage anyone to abuse any addictive substances. The text is not intended for persons under the age of 18.
Best IVG 2400 Disposable Vape Flavours
Before we begin, remember, taste is super subjective. What floats our boat might not be your cup of tea, and that's cool. But hey, exploring is half the fun, right?
Stick around and check our view, our thoughts and feelings on the best IVG 2400 Disposable Vape Flavours!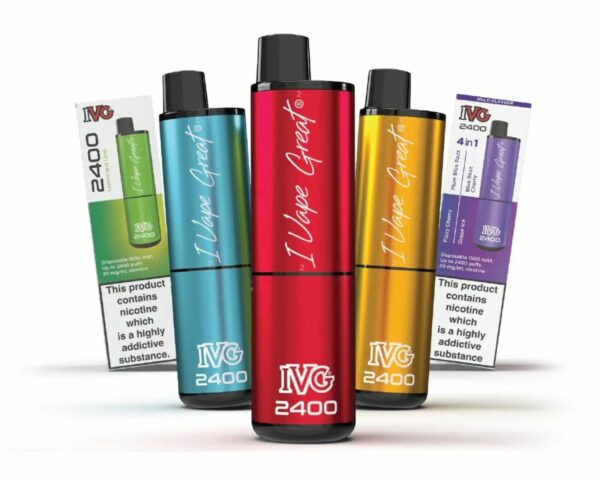 1. Lemon & Lime – 10/10
Starting simple.
Easing into it with classics.
Ah, the zesty dance of lemon and lime! Puffing on this is like sipping on a chilled citrus soda on a summer's day. It's a refreshing kick, without being overpoweringly sour. Super crisp. If you're a fan of citrus, this one's a winner.
The only downside? Makes me crave a mojito every time.
2. Blackcurrant Lemonade – 9.5/10
Sweet & Tangy Adventures.
This is where the journey gets a tad wilder.
It starts with the tartness of blackcurrant and smoothly transitions to a sweet lemonade finish. I kinda dig this one for its sweet and sour balance. It's like a picnic in a vape bar. If you're not into sweet profiles, this might be a tad too much. But for me? Chef's kiss.
3. Strawberry Ice – 8.5/10
Cool Down with Icy Blends.
Ever had a frozen strawberry daiquiri? This is it, minus the hangover.
A blast of ripe strawberries followed by a cool icy sensation. Super refreshing. It's like summer in a puff. The coolness is just right – not too icy, but enough to give you that chill vibe. I love that chilling throat hit.
A solid choice for fruit lovers. Perfect for those hot days or when you just want to feel invigorated.
4. Blue Razz Cherry – 8/10
The Berry-Burst Delight.
For those who adore the mix of sweet and sour.
Now, this one's interesting. The blue raspberry hits first – a tad tangy, a tad sweet. Then, the cherry pops in, rounding it off nicely. It's a playful mix. Kinda reminds me of those blue slushies with a cherry on top. Some might find it a bit on the sweeter side, but for an occasional treat? Spot on!
Ideal for when you're craving something that's both zesty and sugary.
5. Tropical Fruits – 7.5/10
Diving into the exotic.
Aloha vibes, anyone? Welcome to the tropical paradise.
This blend transports me straight to a hammock on a sandy beach. A mix of mangoes, pineapples, and maybe a hint of passion fruit? It's like a tropical fruit salad in vapour form. Perfect for those days when you need a mini vacation.
My only gripe?
Sometimes I wish the flavours were a bit more distinct.
6. Fizzy Cherry – 7.5/10
One for the Fizz Lovers.
If you've ever loved those fizzy drinks and candies, these are your go-to.
Okay, pop quiz – ever missed those cherry cola gummies?
Yeah? Then, mate, this is for you! There's a genuine fizziness to it, which honestly blew my mind a bit. The cherry isn't too overpowering, it's sweet with just the right hint of tartness. It's nostalgia, wrapped in clouds.
But, heads up, if you're not a fan of soda-like vape flavours, this might be a bit too "fizzy" for your palate. For me though? It's a trip down memory lane.
7. Pineapple Ice – 7/10
Tropical Breeze on a Chilly Day.
For those times when you need a sunny escape.
Last, but not the least, we've got this tropical cool dude. The pineapple here isn't that overripe, super sweet kind. Nope. It's that perfect middle ground – fresh, tangy with an icy kick to finish.
Think of it as a pineapple popsicle, melting under the sun. Perfect for those who love a refreshing, cool hit without going full menthol. The blend of warm tropical vibes with a cool exhale is just pure magic.
Conclusion
And there you have it, our fellow cloud chasers! The lowdown on the Best IVG 2400 Bar flavours – the new vape on the Irish market. But as always, remember everyone's taste buds are their own unique adventure.
And hey, if you're itching to grab one (or maybe all) of these beauties, just head over our IVG 2400 Disposable Vape Kit collection and pick your favorite flavours. Shop new IVG 2400 Disposable Vape at XMANIA now!