Explore a diverse range of crystal vape flavours and find the best options for you. 
If you're looking for the best Crystal Vape flavors, you have come to the right place! With decades of combined experience in vaping, our team of experts at Xmania will walk you through the different Crystal Bar flavors, their flavor profiles, and why we and our customers love them.
Best Crystal Vape 600 Flavours Ranked: Our Recommendations
To help make your decision a little easier, we've ranked all our most popular Crystal Bar 600 flavors!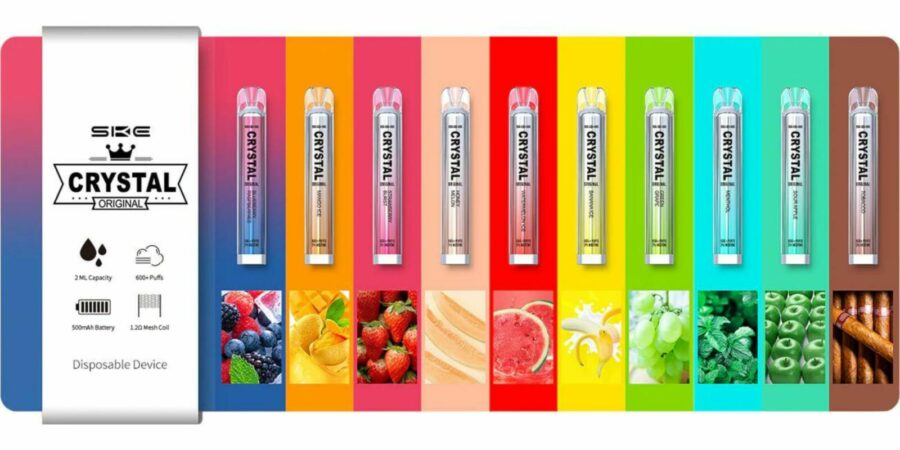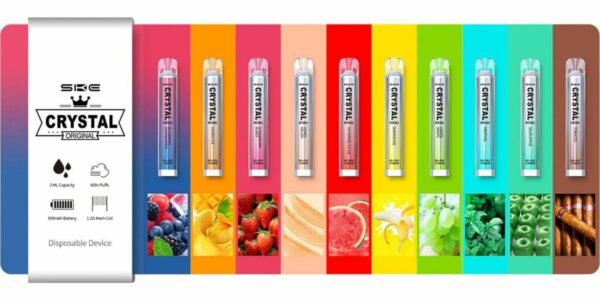 1. Banana Ice (9/10)
Our most popular seller, Banana Ice, is the perfect amount of sweet banana flavor on the inhale and a refreshing blast of ice-cool mint that will leave your breath feeling cool and refreshed on the exhale.
2. Skittles/Rainbow (9/10)
This one is my personal favorite! Vaping Skittles/Rainbow is like popping a handful of those delicious candies straight into your mouth. I've never been able to resist a super sweet-flavored vape.
3. Pink Lemonade (8.5/10)
Nothing beats the traditional flavor of sweet and refreshing pink lemonade, and this one is a personal favorite. It's reminiscent of a refreshing glass of pink lemonade on a warm summer's day.
4. Blueberry Sour Raspberry (8/10)
There's no denying the popularity of sweet and sour, and the delicious Blueberry Sour Raspberry is like a flavor explosion in your mouth! Featuring sweet and tart raspberries combined with the tartness of blueberries, this flavor is a great summer vape.
5. Fizzy Cherry (7/10)
Ever had a fizzy cherry cola? Then you'll love our delicious fizzy cherry vape flavor that features the perfect amount of sweet and tart cherries. It's like taking a massive gulp of your favorite fizzy cherry drink!
6. Watermelon Strawberry Bubblegum (7/10)
Watermelon Strawberry Bubblegum combines the subtle yet sweet flavor of juicy watermelon with the classic flavor of strawberry bubblegum. It's an excellent flavor for anyone that doesn't like the coolness of mint or overly sweet vapes.
7. Cherry Ice (6/10)
The sweet and tart flavor of sun-ripened cherries combined with a refreshing blast of cool mint. You'll experience the sweet and smooth flavor of cherries on the inhale with a refreshing blast of cool icy mint on the exhale to leave your taste buds tingling!
8. Blueberry Raspberries (6/10)
Sweet and juicy raspberries combined with the subtle flavor of blueberries. It's a sweet vape, but overly sweet, and it could be your next favorite all-day vape.
9. Blueberry Cherry Cranberry (5.5/10)
This one's for the tart and sour lovers out there. It combines the subtle flavor of blueberries, the sweetness of cherries, and the bitter tartness of cranberries. We're sure that you're going to love it if you're a fan of a fruity vape.
Which Crystal Vape 600 flavor is best for me?
Choosing a Crystal Vape 600 flavor isn't easy, especially if you're a beginner vaper. However, because disposable vapes are so affordable, it's a good idea to get two or three different flavors until you work out which one is the best flavor for you.
Some factors to consider when choosing a flavor include:
First, consider which flavor profiles you enjoy in everyday life.
Do you prefer sweet or sour?
Do you like regular flavors or minty cool?
Are you a fruit fan?
Which Crystal Vape 600 flavor do you recommend for beginners?
Our personal favorites are Skittles/Rainbow, Banana Ice, and Pink Lemonade. You'll get a nice mix of the different flavor profiles, and we highly recommend grabbing 2-3 Crystal Vape Bars so that you can try them all!
Finding an all-day disposable vape isn't easy. It has to be perfectly balanced. Too sweet, and you'll get sick of it before the end of the day. To sour or not sweet enough, and you'll find yourself looking for another vape.
If you are interested in finding out more about Crystal Bar 600, check out our comprehensive review here: Crystal Bar 600 Review.
Conclusion
There you go! Our best crystal vape flavors to help you choose Crystal vape flavors for beginners. Ultimately, we believe that all the Crystal flavors are great, but we know you'll quickly work out which is your favorite all-day vape.
Choosing the best Crystal Vape 600 flavors is never easy, but luckily for you, there's a bunch to choose from, and the affordable price makes it easy to grab more than one to experiment with.