Among the wide range of disposable vape options, the Crystal Bar 600 Disposable Vape by SKE is another one that caught our attention. Designed for convenience and portability, this disposable vape bar promises an authentic Mouth To Lung (MTL) experience with a range of flavors.
We decided to dive deep into the product and bring you a comprehensive review of our thoughts and experience.
Crystal Bar 600 Review Summary
Our scores:
Performance: 6.5/10
Ease of use: 10/10
Nicotine intensity: 9/10
Availability of flavors: 7/10
Flavours quality: 10/10
Price: 9/10
Design: 9.5/10
Overall score: 8.7/10
Pros:
Flavours: The variety of flavors and their quality is a standout feature.
Design and Portability: Its futuristic design and portability make it appealing to many users.
Ease of Use: With inhale activation technology, it's user-friendly and suitable for all levels of vapers.
Cons:
Inconsistent Longevity: The device might not last as long as Elf Bary or Lost Mary
Disposable nature may not appeal to all users
Our top flavour:
How long it lasts:
1 day for heavy vapers
2-3 days for moderate vapers
About the Crystal Bar 600 Disposable Vape
The Crystal Bar 600 is a disposable vape device that offers up to 600 puffs, equivalent to approximately 20 or more cigarettes. With 2ml of e-liquid and 20mg salt nicotine, it's designed to provide a smoother throat hit and faster craving satisfaction. The lightweight build and small size make it easy to carry around, and its inhale activation technology ensures a smooth vaping experience.
Specifications:
Dimensions: 17 x 17 x 104 mm
Material: Stainless Steel and PCTG
Coil Resistance: 1.2Ω
Nicotine: 2%
Battery Capacity: 500 mAh
About the Brand: SKE
SKE (which stands for "Speed Skier Extreme") is a brand that has been making waves in the disposable vape market. Known for their innovative designs and quality products, they aim to provide an alternative to traditional smoking. The Crystal Bar 600 is one of their latest offerings, and it reflects their commitment to user-friendly technology and satisfying flavors.
Crystal Bar 600: Review
Design and Build
The Crystal Bar 600 boasts a futuristic design with a unique glaze-like appearance. The double-glazed aesthetic and an LED light at the bottom add to its visual appeal. The light blue hue that illuminates when you draw on the mouthpiece is not just eye-catching but adds a touch of sophistication.
The vape device feels good to hold and its shape and ergonomic design make it comfortable in hand. Its sleek and smooth design gives it a premium feel, and the weight is just right, not too heavy or too light. Holding it feels natural, and it doesn't cause any strain even after extended use.
Its lightweight build and small size mean you can easily slip it into your pocket and take it with you wherever you go. The inhale activation technology eliminates the need for buttons or complicated menus, making it suitable for both beginners and experienced vapers.
Performance and Experience
The Crystal Bar 600 promises up to 600 puffs, outlasting 20 cigarettes. However, in our experience, the device lasts a bit shorter than Elf Bar or Lost Mary.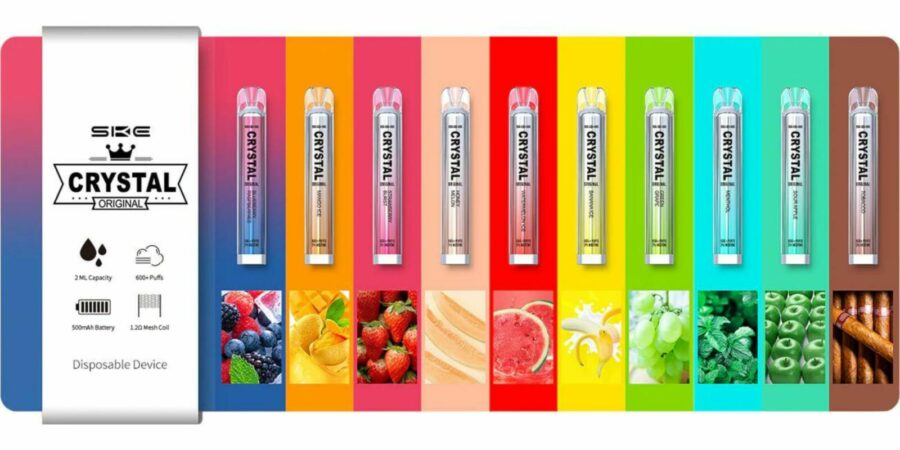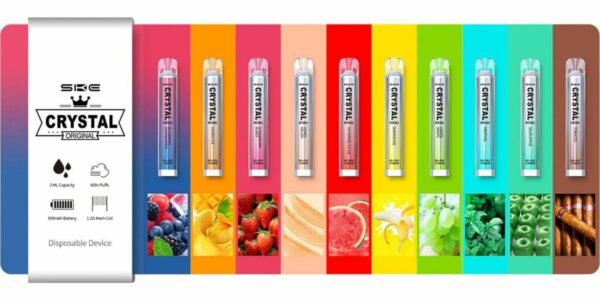 Drawing on the mouthpiece feels intuitive, and the device responds quickly. The airflow restriction is well-balanced, providing a satisfying draw without being too tight or too loose.
Read more: How long does Crystal Bar 600 last?
Flavor Profiles and Options
Despite the concerns about longevity, the Crystal Bar 600 shines in the flavor department. With options like Cherry Ice, Pink Lemonade, Watermelon Strawberry Bubblegum, and more, the taste is top-tier. We praise the stunning sweet taste of skittles/rainbow flavor and the authentic banana ice flavor with a cool, refreshing ice sensation. The variety of flavors offers something for every palate.
Read more: Best Crystal Bar Flavours Ranked
Pricing and Availability
The Crystal Bar 600 falls into the mid-range price category for disposable vapes. While the exact price may vary depending on the retailer, here at Xmania, you can purchase the device for the best prices in Ireland.
Last thoughts
The Crystal Bar 600 offers an attractive package with its design, flavors, and ease of use. However, the inconsistency in longevity is a small concern. It's a product that may appeal to those looking for unique flavors and a stylish design but may disappoint those seeking long-lasting performance.
Based on our analysis and the reviews we've gathered, we would give the Crystal Bar 600 a score of 8.7 out of 10.
Is Crystal Bar 600 a Good Choice For You?
Flavor Enthusiasts: If you prioritize flavor above all else, the Crystal Bar 600 offers a delightful experience.
Occasional Vapers: For those who vape less frequently and are drawn to the aesthetics, this product may be suitable.
Value Seekers: If longevity and value for money are your primary concerns, you might want to explore other options, as the Crystal Bar 600 may not meet your expectations.
Conclusion
In conclusion, the Crystal Bar 600 Disposable Vape is a solid vape. We rate its flavors and design very high, but the inconsistencies in performance make it a product that may not be suitable for everyone.
As with any purchase, understanding your preferences and needs will guide you to the right choice. If the unique flavors and sleek design align with your priorities, the Crystal Bar 600 is definitely worth a try. If not, exploring other brands, such as Elf Bar or Lost Mary, might be the way to go. Pick your disposable vape online in our vape shop.
Further Resources