In the vast vape universe, Elfliq is making waves and for good reasons. Brought to life by the big brains at Elf Bar (yeah, those disposable e-cig legends), Elfliq's keeping that same top quality in their e-liquid game.
Ready to ride the flavor wave?
We're diving into the 17 best Elfliq Vape Juice flavours. Whether you're a vape old-timer like we at Xmania or just getting your feet wet, our guide aims to provide insights that will help you pick from the vast Elfliq flavour range.
Disclaimer: All information provided in this text is for educational purposes only. The purpose of the article is in no way to entice and encourage anyone to abuse any addictive substances. The text is not intended for persons under the age of 18.
What Makes Elfliq Eliquid Stand Out?
Before we dive into the individual flavours, it's essential to understand what sets Elfliq apart. The 50VG/50PG ratio is a standout feature, striking a delicate balance between cloud production and a smooth throat hit.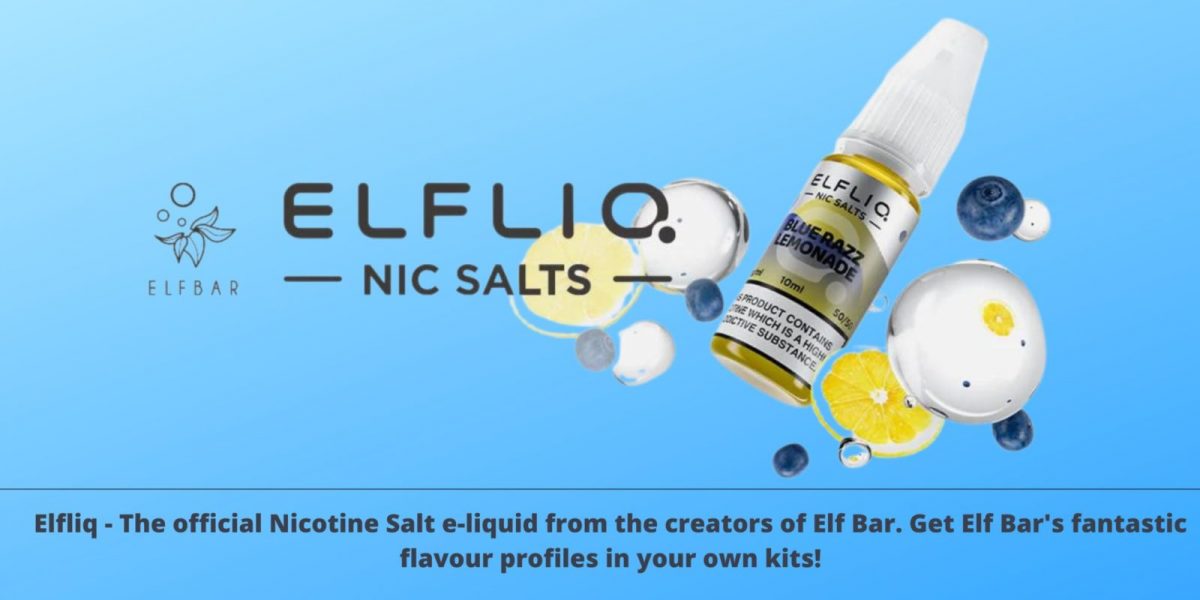 This ensures that vapers get a discreet puff, which is especially useful in social settings or public places. Furthermore, with a 10ml nic salt range, Elfliq offers a concentrated burst of flavour, reminiscent of their disposable e-cigarettes but tailored for refillable vape kits.
A Deep Dive into the Best Elfliq Nic Salts Flavours
1. Strawberry Ice – 10/10
Our number one Elfliq flavour.
The first puff immediately transports you to a sun-kissed strawberry field with a gentle winter breeze. The natural sweetness of ripe strawberries combined with a subtle icy undertone is refreshing. It feels like enjoying a cold strawberry sorbet on a hot summer day.
2. Blueberry Sour Raspberry – 9.5/10
This flavour is a tantalizing dance of sweet and sour.
The blueberry offers a sweet, juicy base, while the sour raspberry provides a tangy kick that tingles the taste buds. It's a harmonious blend that keeps you coming back for more.
However the sour note, although delightful to many, might be a bit strong for those who lean towards sweeter profiles.
3. Strawberry Kiwi – 8.5/10
A tropical delight, this flavour masterfully combines the sweetness of strawberries with the slightly tart essence of kiwi. It's like sipping on a well-balanced fruit cocktail.
On the other hand, the kiwi, while present, could have been a bit more pronounced to truly shine alongside the dominant strawberry.
4. Blue Razz Lemonade – 8/10
This flavour is summer in a bottle.
The zesty lemonade cuts through the sweetness of the blue raspberry, creating a fizzy sensation that's both invigorating and satisfying. But the "fizz" factor could be enhanced a bit more to truly encapsulate the effervescence of a freshly poured lemonade.
5. Watermelon – 8/10
One of the all-time favorite flavors from the classic Elf Bar disposable bars, it closely resembles its disposable siblings at their best.
Pure, unadulterated watermelon goodness.
Each puff is reminiscent of biting into a juicy slice of watermelon, making it an instant classic for fruit lovers.
It's a straightforward flavour, which is great for purists.
6. Cherry – 7.5/10
Rich and robust, this flavour captures the essence of ripe cherries, and is another one suitable for purists.
It's neither too sweet nor too tart, striking the right balance that's reminiscent of cherry desserts.
7. Blueberry – 7.5/10
Another classic done right.
The blueberry flavour is authentic, capturing the fruit's natural sweetness and slight tartness. It's like walking through a blueberry orchard.
8. Apple Peach – 7 /10
This blend is a symphony of crispness and juiciness.
The sharpness of the apple is beautifully mellowed down by the lushness of peach, making every drag a delightful experience of contrasting yet harmonizing flavours.
But for those who have a distinct preference for either apple or peach, the blend might feel like one fruit is overshadowing the other, especially if you're more inclined towards a dominant apple taste.
9. Cherry Cola – 7/10
A nostalgic trip down memory lane, this flavour captures the essence of the fizzy cherry cola we all know and love.
The combination of sweet cherry with the familiar tang of cola is both refreshing and invigorating.
10. Elfbull Ice – 6.5/10
For those seeking an energetic burst, this flavour mimics the adrenaline-pumping sensation of an energy drink, topped with a cool icy finish.
It's an exhilarating blend that keeps you alert and refreshed. The energy drink flavour is quite pronounced, which might not be everyone's cup of tea, especially if they're not fans of commercial energy drinks.
11. Kiwi Passionfruit Guava – 6/10
A tropical paradise in every puff.
The tartness of kiwi, the exotic allure of passionfruit, and the creamy finish of guava come together in a harmonious blend that's both refreshing and satisfying. While the three fruits are distinguishable, the passionfruit tends to be a bit subdued compared to the kiwi and guava, which take center stage.
12. Pink Lemonade – 6/10
It won't excite, it won't disappoint.
A classic summertime favourite, this flavour brings forth the zesty tang of lemonade with a sweet, berry-infused twist. It's a perfect balance of sour and sweet, making it an excellent choice for a warm day.
13. Spearmint – 5/10
A refreshing burst of coolness, this flavour is like chewing on a piece of spearmint gum.
It cleanses the palate and leaves a lingering cool sensation that's both invigorating and calming. For those not accustomed to strong minty flavours, this might come off as a bit overpowering. It's more suitable for occasional refreshment rather than continuous vaping.
14. Peach Ice – 5/10
A delightful blend of succulent peach with an icy finish.
The peach is juicy and ripe, providing a sweet base, while the icy undertone offers a refreshing kick, making it feel like a chilled peach smoothie.
15. Pink Grapefruit – 5/10
This flavour packs a punch with its sharp citrusy notes, embodying the true essence of grapefruit. It's a vibrant and zesty choice for those who like a bit of tang in their vape.
The sourness might be a tad strong for some, especially if they are expecting a milder, sweeter grapefruit profile. Though grapefruit isn't our top pick, it's a fun change of pace for those occasional vape days.
16. Mango – 5/10
Tropical and luscious.
It's sweet, slightly tangy, making it a must-try for fruit lovers. But we expected it to be a little more authentic. But if you love mango, definitely give it a try.
17. Grape – 4/10
As previously detailed, this flavour is a treat for grape enthusiasts (which we are not).
But we must admit that the balance between the sweet and tart elements of dark grapes is impeccably captured.
Conclusion
Just like Elf Bar, Elfliq has undeniably set a benchmark in the vaping industry with its diverse range of flavours, each meticulously crafted to offer an authentic experience.
Their commitment to quality and taste is evident in every puff, making them a top choice for both beginners and seasoned vapers.
For our readers in Ireland, if you're eager to dive into the world of Elfliq or replenish your stock, Xmania is your go-to destination. Offering a vast range of Elfliq e-liquids and many other vaping essentials, Xmania ensures you don't have to wait long for your vaping desires.
With next-day delivery services, you can be assured of timely and efficient delivery, making your vaping journey smooth and hassle-free.
In the end, whether you're chasing clouds, looking for a nicotine hit, or simply exploring flavours, it's essential to find a brand that resonates with your needs.
With Elfliq, you're not just getting e-liquids; you're investing in a sensory experience that promises satisfaction with every drag. So, take a leap, explore their best flavours, and let your senses decide.