A guide to choosing the best CBD oil in Ireland today. Learn all of the main criteria to easily select the best quality CBD oil for your needs.
Disclaimer: All information provided in this text is for educational purposes only. The purpose of the article is in no way to entice and encourage anyone to abuse any addictive substances. The text is not intended for persons under the age of 18. All CBD products available in our store are food supplements and not medicine. 
CBD oil has become a popular choice for consumers during the last decade. Its reputation as means of alleviating a variety of health conditions has created a demand for CBD products in all their forms. This has led to some confusion as to what the best option is for each individual.
It doesn't help that some reports suggest that as much as 70% of CBD products contain less than the amount of advertised CBD. Others meanwhile, may carry trace contaminants that aren't included in their labeling. This makes it more important than ever to choose the right brands.
If you're asking yourself 'which CBD oil is best for me?', then you're in the right place. We cover all the basics and bring you up to speed on everything you need to know to buy the best CBD oil for your needs.
What are the main things to consider when buying the best CBD oil?
Here are the main concepts you need to understand before you make your purchase.
Let's start with available types of CBD Oils:
1. Broad Spectrum CBD
The Broad Spectrum CBD contains all of the many compounds found in the harvested plant except for THC. The additional cannabinoids, flavonoids, and other natural compounds included with the pure CBD have the potential to give increased health benefits while avoiding all of the downsides associated with THC.
THC is currently a legally controlled substance in Ireland and some consumers have high sensitivity to it. In either case, you don't have to worry about it with this variety of CBD.
Check our Broad Spectrum CBD Oils here.
2. Full Spectrum CBD
The Full Spectrum CBD contains all of the compounds included in the broad spectrum variety as well as THC. The potential advantage to this is the so-called 'entourage effect'. It is speculated that the interactions of the full spectrum of compounds enhance all of the potential health benefits of pure CBD oil.
The drawbacks can be that some users are highly sensitive to THC and don't enjoy its effects. Here in Ireland, the substance is legally controlled and is not for sale as a health supplement.
3. CBD Isolate
This is the purest form of CBD oil. All other compounds have been removed including every trace of THC. This can be an excellent choice for those looking exclusively for the effects of CBD and for those with high sensitivity to THC.
Check our CBD Isolate Oil products here.
4. CBD Oil vs Hemp Seed Oil
There is often some confusion between these two. While hemp seed oil can have great dietary health benefits and can add a distinctive flavour to your salads and other dishes, it has no CBD content. CBD oil, on the other hand, is derived from the flower of the hemp plant and may contain pure to full-spectrum CBD oil.
However, there are some Hemp Seed oil products that are packed with CBD as well, such as: LVWell CBD Silver Seal 5000mg CBD 30ml Hemp Seed Oil
5. THC Content
In jurisdictions like Ireland where THC is controlled, this can lead to some understandable paranoia on the part of the consumer. CBD oil for sale in health food shops and here on Xmania are THC-free. You never have to worry about testing positive or having a reaction to any of our products.
6. Concentration
Although there is no THC in CBD oil sold in Ireland, the product comes in different concentrations. These commonly range from 300mg in a 30ml bottle at the lower end to 5000mg in a 10ml towards the top end.  As you can imagine, that's quite a difference.
This means that in the first case, you will receive 10mg of CBD per 1ml. In the latter, you will get 500mg! If you are starting out on your CBD oil journey, make sure to check the strength and go with a lower concentration first.
7. Dosage
There are no official guidelines as to how much you should use. Once you have determined the concentration, you should begin with a low dose and then gradually increase the amount until the desired effect takes place. This minimizes the risk of any unwanted effects and enables you to optimize your dosage.
Oil tinctures with droppers are perfect for this kind of fine-tuning. You can keep track of exactly how much you use daily. If you're not getting the results you need then try switching to a higher concentration or increasing your dosage.
8. Your reasons for using CBD
CBD oil is classified as a 'novel' food product meaning that it was not widely available in the EU before 15th May 1997. As a food product, it is entirely safe to consume, however, it is not possible to make any health claims about it within the EU.
Some of the reasons people choose to use CBD are the following:
Anti-inflammatory effects
Pain relief, particularly chronic pain
Stress and anxiety
Insomnia and sleep quality
Alleviate the side effects of medication
Skincare issues
Epilepsy and anti-convulsive effects
If you have specific reasons for wanting to use this oil you need to research the literature surrounding its use beyond a food substance. There are plenty of published papers online for you to review, and we encourage you to look at these before you decide to use CBD.
You can find some resources included in our reference section below.
9. Edible vs Oil/Tincture vs Spray
CBD oil comes in a variety of forms and all have their advantages and disadvantages. Oils are particularly good for those wishing to control their dose as you can measure out the drops and keep the dropper by your bedside or in your bathroom cabinet. They can also easily be added to food and drinks.
CBD Gummies are another popular option for those on the go who want to be able to easily able to reach into a bag or pocket during the day. They also taste great and come in a variety of flavours but may have ingredients you would prefer to exclude by using the oil-based version.
Sprays are very convenient for those who are on the go a lot but don't enjoy eating gummies. The dosage isn't as precise as an oil dropper but the convenience is excellent.
Check the reviews of CBD oil products before you buy
We offer only the top brands with the most trustworthy reputations on Xmania. When you are deciding which product to buy for the first time it's important to read up on customer reviews online. You can trust the brands we offer but you want to make sure to choose the one that works best for you.
Top CBD Brands at Xmania
As you browse the reviews, check out what people used the product for and how effective they found it to be. Keep all the above criteria in mind and take note of the flavour, the strength, convenience, and overall quality of each product before you make that first purchase.
Which CBD oils do we recommend?
All of our listed products are leading brands that we can highly recommend. You can rest assured that every one of the following products adheres fully to all EU and Irish guidelines for safety and quality. We love these products and use them ourselves so we encourage you to try them out for yourself and let us know how they work for you.
These are our top five picks for high-quality CBD oil products in Ireland:
LVWell CBD Raw Full Spectrum 3000mg CBD Oil 10ml
This is a terrific medium to high strength oil, THC free (THC percentage is below <0.2% No Narcotic Effects), that includes over 100 additional cannabinoids, including CBC and CBG.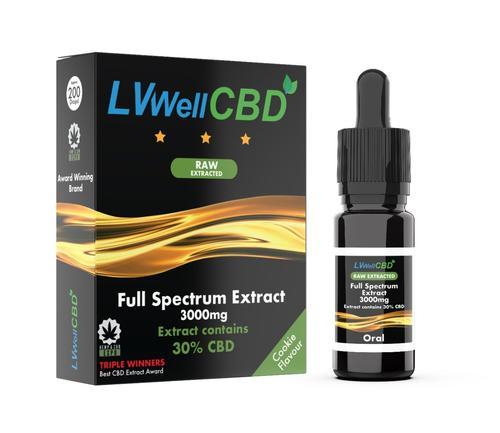 You can buy this oil right here: LVWell CBD Raw Full Spectrum 3000mg CBD Oil 10ml
Vitality CBD Active Focus Lime Flavoured Oil Drops 30ml 2000mg
This delicious medium-strength oil contains Vitamin A at 50% NRV per recommended dose of the product.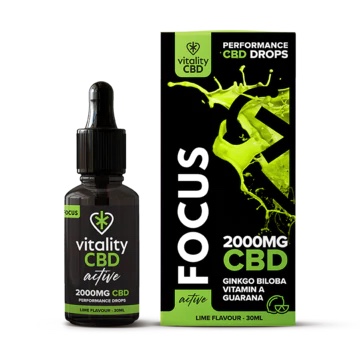 You can purchase it here: Vitality CBD Active Focus Lime Flavoured Oil Drops 30ml 2000mg
LVWell CBD Broad Spectrum 5000mg CBD 10ml Winterised Oil
This high-strength oil comes in a luxurious sweet mocha flavour to make getting your CBD daily easier than ever. This is an organic product harvested in Europe, with a broad spectrum effect. It is THC-free at 0.01% undetectable levels.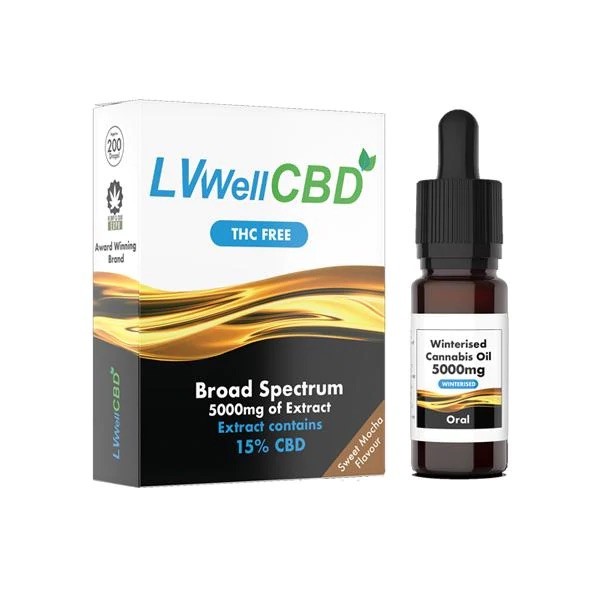 Buy this sweet broad-spectrum oil here: LVWell CBD Broad Spectrum 5000mg CBD 10ml Winterised Oil.
LVWell CBD Silver Seal 5000mg CBD 30ml Hemp Seed Oil
This high-strength product is enhanced with an irresistible cookie flavour and is great value for money. The concentration is perfect for those seeking a stronger effect.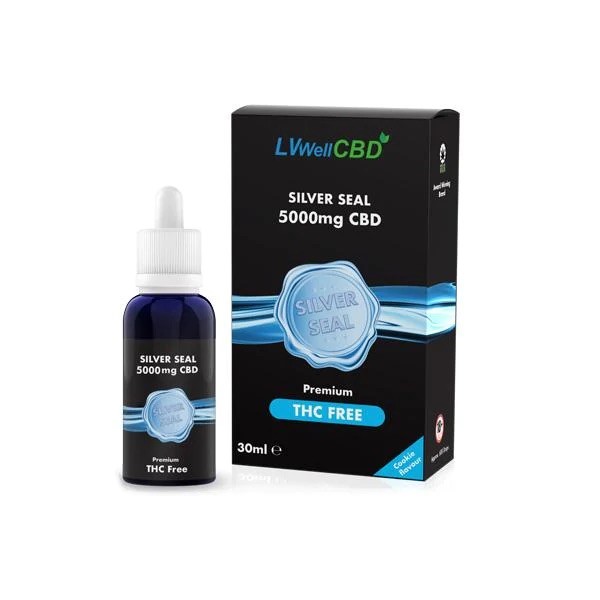 You can buy your Silver Seal here: LVWell CBD Silver Seal 5000mg CBD 30ml Hemp Seed Oil.
Multitrance 20% CBD (Cannabidiol) Oil / Multitrance Original Amsterdam 2000mg
Pure and original. This is a great mid-strength oil for those purists who love the authentic taste of CBD oil.
You can purchase this great product Multitrance 20% CBD (Cannabidiol) Oil / Multitrance Original Amsterdam 2000mg.
Which CBD oil will you buy today?
If you're planning on using CBD oil today, make sure you talk to your doctor if you have a medical application in mind.
Once you're good to go, choose an oil that has a lower concentration, to begin with.  Make sure to check out plenty of customer reviews and read through some of the source materials listed below. Choose one of the delicious flavours of oil on offer here at Xmania.
Start with a small dose first and then gradually increase until you get the results you are looking for. Once you have an idea of what works best for you then feel free to experiment with flavours, dosage, and type of oil.
Now you have all the information you need to make that first purchase. Check out our full range of CBD oil products, get what you need today and enjoy CBD products with our next day delivery in Ireland.
FAQ
Is CBD Oil legal in Ireland?
CBD oil is classified as a 'novel' food in the EU and is completely legal in Ireland.
Is CBD oil addictive?
Not in the least. You can safely consume this product without any risk.
How much THC does CBD oil have?
It has zero %. There may be trace elements of less than 0.1% that have no effect on the body and are far below detectable levels for driving, operating machinery, and all workplace or legal testing.
How is CBD Oil manufactured?
CBD oil is extracted from the flower of the hemp plant according to the highest approved standards of the EU.
Where to buy CBD oil in Ireland?
You can buy all of the best CBD oil products in Ireland either from Xmania either in-store or on our website.

Sources
A Cross-Sectional Study of Cannabidiol Users
https://www.ncbi.nlm.nih.gov/pmc/articles/PMC6043845/
Clinicians' Guide to Cannabidiol and Hemp Oils
https://www.mayoclinicproceedings.org/article/S0025-6196(19)30007-2/fulltext
Differentiating Full-Spectrum Hemp Extracts from CBD Isolates: Implications for Policy, Safety, and Science
https://www.tandfonline.com/doi/abs/10.1080/19390211.2020.1776806?journalCode=ijds20
Molecular Targets of the Phytocannabinoids-A Complex Picture
https://www.ncbi.nlm.nih.gov/pmc/articles/PMC5345356/
Can Hemp Help? Low-THC Cannabis and Non-THC Cannabinoids for the Treatment of Cancer
https://www.ncbi.nlm.nih.gov/pmc/articles/PMC7226605/
Hemp Products (e.g. CBD) in Food and Supplements
https://www.fsai.ie/faq/cbd_oils_and_hemp_oils_legal_status.html
Cannabis for Medical Use
https://www.gov.ie/en/collection/fb8912-cannabis-for-medical-use/
Clinical Guidance on Cannabis for Medical Use
https://www.gov.ie/pdf/?file=https://assets.gov.ie/46697/f1efaeedcfda4d258c6908f86e86056f.pdf#page=null
Cannabis for Medical Use – A Scientific Review
http://www.hpra.ie/docs/default-source/publications-forms/newsletters/cannabis-for-medical-use—a-scientific-review.pdf?sfvrsn=5